FIT MOMS FLAGSTAFF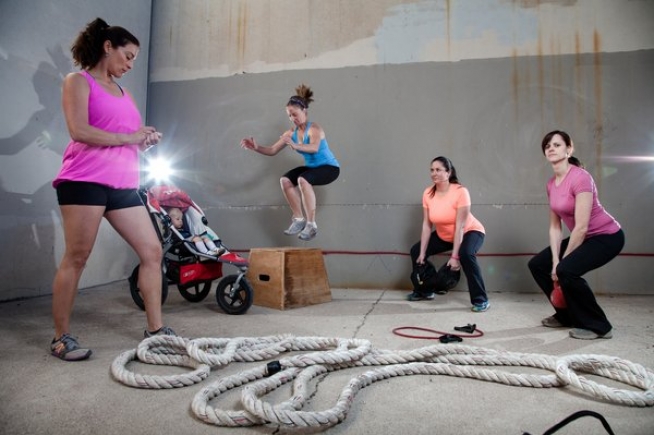 WELCOME!
FIT MOMS FLAGSTAFF HAS BEEN SERVING NORTHERN ARIZONA SINCE 2009.  IN 2014 THE COMPANY EXPANDED THEIR VIEW TO OFFER  TRX SUSPENSION TRAINING AND NUTRITIONAL & FITNESS COACHING WITH A FOCUS ON WOMEN AT ANY STAGE OF THEIR LIFE.  EVERY CLASS IS TAUGHT BY A NATIONALLY CERTIFIED PRE- & POST-NATAL FITNESS INSTRUCTOR. WE USE FUNCTIONAL TRAINING TO GET YOU WHERE YOU WANT TO BE.  TRY ONE OF OUR CLASSES AND UNLOCK YOUR POTENTIAL.
WHO WE ARE
I AM MARICEL CAUSER; OWNER OF FIT MOMS FLAGSTAFF, LLC,  FORMERLY A FIT4MOM FRANCHISEE FROM 2011-2014.  I SWAM COMPETITIVELY THROUGHOUT JUNIOR HIGH & HIGH SCHOOL & ROWED FOR THE UNIVERSITY OF MICHIGAN. AS A NEW MOTHER IN A NEW TOWN, I SOON REALIZED HOW IMPERATIVE IT WAS FOR MY OWN MENTAL, EMOTIONAL & PHYSICAL HEALTH TO CONTINUE BEING ACTIVE AND FIT. AS IT TURNED OUT, THERE WAS AN ENTIRE COMMUNITY OF WOMEN WHO ALSO NEEDED TO BE PHYSICALLY ACTIVE TO BE THE BEST VERSIONS OF THEMSELVES. IT IS DEEPLY FULFILLING TO BE ON THIS JOURNEY WITH OTHER WOMEN. AFTER BECOMING A CERTIFIED PRE- AND POST-NATAL FITNESS INSTRUCTOR, I JOINED THE NATIONAL FIT4MOM TEAM TO OFFER THE WOMEN OF FLAGSTAFF FITNESS CLASSES FOR EVERY STAGE OF MOTHERHOOD. IN JUNE OF 2014 I BRANCHED OUT WITH MY COMPANY: FIT MOMS FLAGSTAFF, LLC TO OFFER THE FOLLOWING PROGRAMS: HIIT LIKE A GIRL: AN 8-WEEK FITNESS & NUTRITION PROGRAM & JUST HIITS, TRX TRAINING AND SMALL GROUP STRENGTH & CONDITIONING CLASSES.  MY FIREFIGHTER HUSBAND & I ARE 'LIVING THE DREAM' WITH OUR TWO BEAUTIFUL CHILDREN, IN THE GLORIOUS MOUNTAINS OF NORTHERN ARIZONA.
HIIT = High Intensity Interval Training
AN EXERCISE STRATEGY ALTERNATING PERIODS OF SHORT INTENSE ANAEROBIC EXERCISE WITH LESS INTENSE RECOVERY PERIODS. HIIT IS A FORM OF CARDIOVASCULAR EXERCISE.  THESE SHORT, INTENSE WORKOUTS PROVIDE IMPROVED ATHLETIC CAPACITY AND CONDITION, IMPROVED GLUCOSE METABOLISM, AND IMPROVE FAT BURNING
Brought to you by the fine folks at MCLifePhoenix with Apartments in Phoenix , Apartments in Scottsdale , Apartments in Sun City , Apartments in Flagstaff.