Hungry? Here are 5 Places by the Place at Wickertree!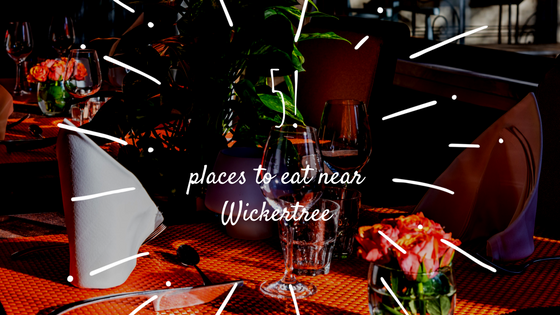 We all have our favorite places to eat, shop and play. Why not explore somewhere new? If you live in Phoenix you probably have restaurants and stores you frequent. But we want to connect you with new places in the community for you to enjoy with family and friends.
If you haven't heard about our 5-5-5 program, the 5-5-5 program connects you with the world around you by providing you with the best 5 places to eat, shop and play all within 5 miles and 5 minutes of each our MCLIFE communities.
This blog is going to focus on 5 of our choices to dine out near our property, The Place at Wickertree in Phoenix Arizona. All of the choices picked in this blog are all within 5 miles of the property! So let's get started and tell you where to chow down. These are our 5 favorite places to eat in Phoenix.
George's Famous Gyros & Pasta
Where: 20206 N 27th Ave Phoenix AZ, 85027
What: Greek and Mediterranean food
Why: Quaint neighborhood spot serving up delicious Greek food
Must Try: The original gyro sandwich; Greek Pasta Salad; Chicken Caesar Pita.
Times Square
Where: 2602 W Deer Valley Rd, Phoenix, AZ 85027
What: Italian
Why: It's a cozy Italian eatery serving up New York Style thin crust pizza plus they have happy hour specials on weekdays from 2pm-7pm
Must Try: Our favorite appetizer is the steamers (Fresh Clams Steamers in a Garlic Lemon Sauce, served with Garlic Bread); The Margherita pizza is always a crowd pleaser (Tomatoes, Garlic, Basil and Mozzarella); Fettucine Della Casa (Bacon, Peas and Mushrooms in a Cream Sauce); Tortellini D Angelo (Cheese stuffed Tortellini in a Tomato Cream Demi-Glaze with Italian Dried and Domestic Mushrooms and Pieces of Chicken).
Pork on a Fork
Where: 1515 W Deer Valley Rd, Phoenix, AZ 85027
What: Down home wood smoked BBQ
Why: If you are looking for BBQ you need to go to Pork on a Fork
Must Try: The pulled pork is fantastic. We also love the Midwest Monster (brisket and pork grilled with cheese, jalapeno and slaw on a bun). The mac and cheese and BBQ beans are two of our favorite sides.
Manuel's Mexican Restaurant and Cantina
Where: 1111 W Bell Rd, Phoenix, AZ 85023 (other Valley locations as well)
What: Mexican food served up in a colorful cantina
Why: Fresh delicious Mexican food with a vibrant atmosphere
Must Try: They have great combination plates and lunch specials. Try the Tres Amigos Enchiladas (tomatillo chicken enchilada, cream cheese spinach enchilada and red shredded beef enchilada); Baja Fish Taco (grilled cod tacos with crisp cabbage, pico de gallo and a spicy homemade tartar sauce in a flour tortilla). You can also mix & match tacos, burros, flautas and more!
Bagel Gourmet Restaurant & Coffee Shop
Where: Rancho Encanto Plaza Shopping Center, 16845 N 29th Ave #4, Phoenix, AZ 85053
What: A little local deli serving tasty breakfast and lunch dishes
Why: Amazing bagels and breakfast dishes served in a cute neighborhood deli
Must Try: Garden Veggie & Jalapeno Cheddar bagels. Lunch Lox Plate (Smoked nova salmon fillet served with cream cheese, cucumber, onion, tomato, you can get capers on request). You can build your own bagels and sandwiches.
There you have it! That is our first series of 5 places to eat in Phoenix AZ! Remember: they're all within 5 miles from The Place at Wickertree so it won't take long to get there and get eating!
What do you think? Do you like our choices? Leave us a comment and let us know what you would choose for your favorite restaurants in Phoenix Arizona. Keep an eye on our blog for upcoming posts about our 5-5-5 choices to eat, shop and play in your community. Until then, keep on sharing the good life. If you are curious about renting at The Place at Wickertree, have questions for a leasing agent or want to schedule a tour you can call: 480-382-6625 and email: wickertree@mccompanies.com
Sign Up for Our Newsletter
Get the best of MCLife in your inbox.