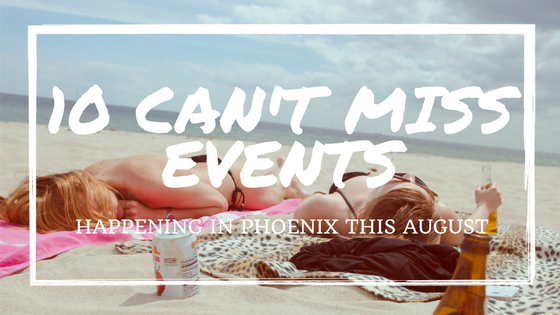 The summer may be drawing to a close, but that doesn't mean the events stop! In this last month of summer, make sure you check out these can't miss events. There's fun for everyone, no matter your age!
1. CITY LIGHTS MOVIE NIGHT:
Want a fun and different movie going experience? Check out the City Lights Movie Night!  Every second Friday of every month, families and friends bring their blankets and chairs to watch a feature film on the big screen at the outdoor movie theater in Patriots Park. This free event includes giveaways, contests and prizes!
On August 11th, be sure to catch a special showing of Disney's hit film Moana. Feel free to enjoy Hawaiian themed games and activities including a hula dance!
Check out their Facebook Page for more information!
2. OCEAN OF LIGHT MUSEUM EXHIBIT:
From the artist Squidsoup, this exhibit uses "light-based data visualization to create an augmented reality environment that challenges the spatial and the sculptural and provides a context for understanding just how immense data can be."
It's perfect for a romantic date night or just a regular night. Plus, imagine how cool those Instagram photos will look. Get your tickets today!
3. GET ANIMATED:
Ever wondered how your favorite cartoons and movies were made? This hands on museum exhibit is fun for all ages! Get Animated! lets you experience every step in the animation process and brings to life the evolution of animation.
You can even create your own storyboard and stop-motion animated movie, go behind the scenes with artists and animators, and enjoy some 3D toys!
4. DIAMONDBACKS GAMES:
The season is still going so make sure you get out and support your favorite players! On August 25th, after the game, there'll be a fireworks show the whole family can enjoy. Get your tickets now! Who knows, maybe you'll even catch a foul ball!
5. SCOTTSDALE ART WALK
Enjoy some art in these last summer months! This is a great opportunity to get out and walk while also being able to look at some cool art pieces. During ArtWalk, restaurants, museums are open while free trolley and/or horse-drawn carriage rides are available to transport you from numerous free parking areas throughout the Scottsdale Arts District and Scottsdale Downtown.
6. MOTORS OFF MAIN, COFFEE AND CAR SHOW:
Join East Valley Dad Nation as they host Motors Off Main, a Monthly Car Show (2nd Saturday) filled with makes and models from every era! Enjoy the local coffee, breakfast, pizza, and craft beers.
7. CONCERTS:
Make sure you don't miss your favorite band or artist when they come to town! Follow the link below to see the concert schedule and buy tickets!
LINK: Concerts!
8. BEER OLYMPICS:
Grab your friends and your beers! It's time for the Beer Olympics! Enjoy an adult game night filled with your favorite yard and party games while sipping on your favorite Tito's cocktail or an ice cold Bud Light.
9. LATIN ADDICTION:
Who doesn't love to dance? This is the perfect thing to do with that special someone! For just $10, join hundreds of dancers every 2nd Saturday for Latin Addiction at DeSoto Central Market in downtown Phoenix! The dance lesson runs from 9-10pm, and open dancing starts at 10pm – 2am.
10. SATURDAY NIGHT FEVER:
Based on the 1977 film that became a cultural phenomenon starring John Travolta, this mega-musical explodes with breathtaking and dazzling choreography and songs from the chart-topping soundtrack including "If I Can't Have You" and "Disco Inferno." Catch the fever all over again!