Life is expensive. Instead of sitting at home bored you can get out there and enjoy Phoenix with this helpful guide. We're talking all thing free to do in Phoenix today. Here you'll find our top 10 things to do in Phoenix for free.
These fun activities, sights, and entertainment options are located nearby too, no need to gas up the car or spend money traveling! When summer rolls around it can be tempting to ignore your budget but if you are trying to stick to your guns while also enjoying your life, these options for things to do in Phoenix for free can help.
Some of these great spots will have local options for food, shopping, and more but all of the activities themselves are free to enjoy. If you have a little wiggle room in the budget you can splurge once you get there but there's no admission fees or costs associated with our suggestions below!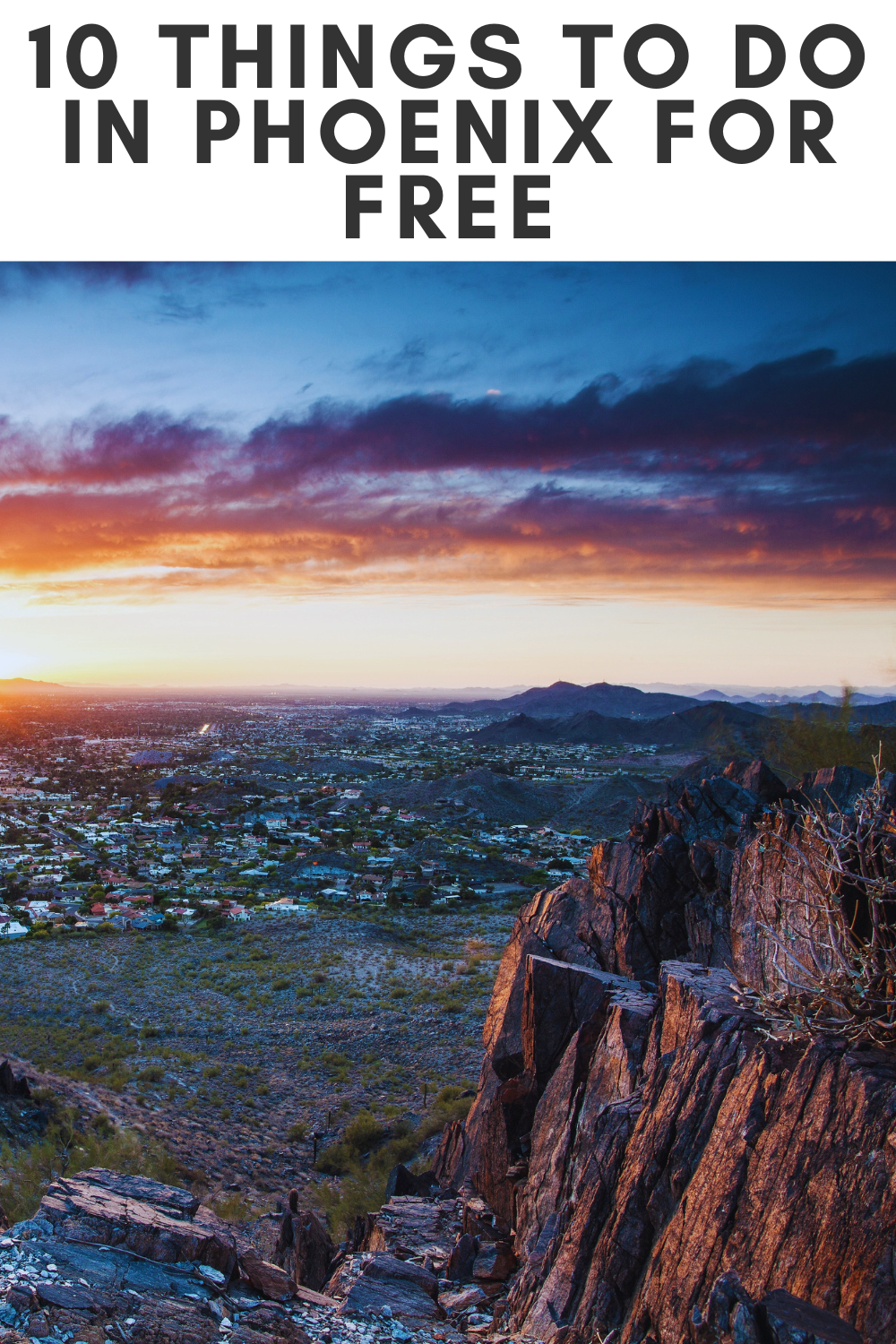 One of the best ways to enjoy your life without having to stress about money is to set up a budget and stick to it…that's all well and good…but sometimes it can also feel restrictive and make life seem a little boring.
Don't stress about money and don't sit home bored. The great thing about living here in Phoenix is that we have a lot of great options for things to do that are cheap and in this case, free! Some of these are also great family friendly options so even if you have kids involved there's options for free entertainment that everyone can enjoy.
Check out this list, I'm sure you can find something that will keep you busy, help you burn some energy, teach you something, and at the very least give you an excuse to explore this great city we call home!
10 Things To Do In Phoenix For Free:
You can visit daily for free with I.D. if you are American Indian. You can also visit for free from 4 p.m. to 8 p.m. every first Friday of the month (except March), and the fourth Saturday of the month from 10 a.m. to 4 p.m., June through August.
This is a great spot to learn more about American Indian Culture here in Phoenix and they have lots of events so be sure to check out their webpage for more information!
The Desert Botanical Garden is a must see spot here in Phoenix. When it comes to our top 10 things to do in Phoenix for free you have to make sure this one makes your list as well. It's a gorgeous attraction that is home to thousands of desert plants and tons of trails.
Admission is free all day on the 2nd Tuesday of each month.
If you have kids in the mix you can't go wrong with a trip to the Children's Museum of Phoenix.
Kids up to the age of 10 can visit for free from 5 – 9 p.m. on the first Friday of every month. A great way to get out of the house, do something semi-educational but still fun, and all without spending any money!
Any car lovers out there looking for 10 free things to do in Phoenix for free? If so, we've got you covered. You can check out the Penske Racing Museum! Admission is always free, which you might not expect, so plan a visit and check out all the cool racing memorabilia and history on display!
You can go hiking pretty much all over Phoenix but this post is all about hiking in northern Phoenix. Check out all the great trails and have a fun time in the outdoors without spending any money!
If you would prefer to be on wheels while you are out and about you can check out these biking trails instead! They're fun, well maintained, and a great way to get some exercise while doing something fun that the whole family can enjoy!
Did you know that your pets can get just as bored as you do?! Beat the boredom and get them out of the house. There's plenty of great places all around Phoenix where you can enjoy a nice day out with your dog. You can enjoy all of these great hikes and walks with your pets without having to spend any cash!
Phoenix is known for its amazing views of the night sky. Wait for the sun to go down and then you can go wild enjoying the stars. There's great stargazing all over Phoenix but our guide linked above will help you make the most of your night under the stars.
Don't forget to grab a quick nap in the afternoon so you can stay up late enjoying the views!
Did you know that you can enjoy Phoenix even in the summer? I know the heat can be oppressive at times but there are ways to cool off! You can chill for free this summer in Phoenix with the help of the local splash pads!
These shopping centers have free splash pads you won't want to miss if you have cranky kids who want to beat the heat: CityScape , Fountain Park at WestGate City Center, Scottsdale Quarter and the Outlets at Anthem.
If you have a little money you want to dedicate to something fun this summer you can take a road trip. The sights are free and there are many gorgeous scenic drives around and across Phoenix. You don't have to make it a weekend trip or even an overnight. There are options for day trips that offer gorgeous sights and it gets you out and about without having to worry about more than gas money!
Pack a picnic and head on out to one of these great locations for a change of scenery and a free little vacation!