It's summer which means it's time to get the heck out of Phoenix! Or…maybe not? Here are five things you can do in Phoenix in the summer that won't give you heatstroke!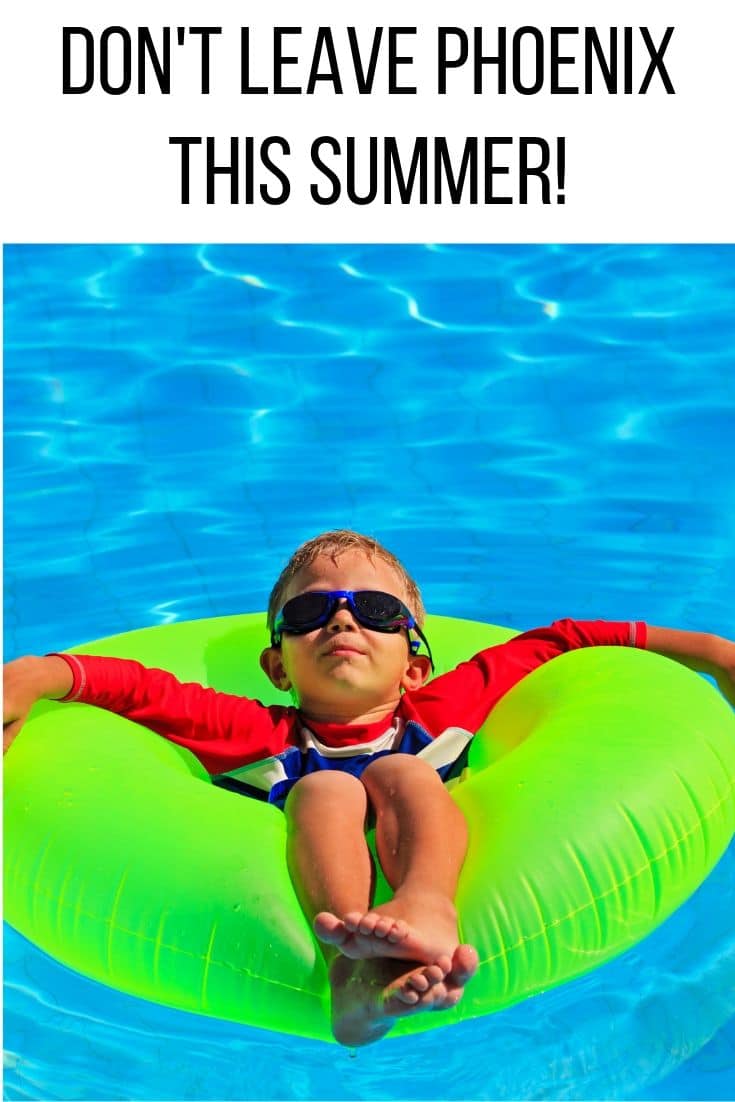 Don't Leave Phoenix This Summer
Let's not waste any time. There's a lot of activities you can enjoy here in Phoenix without worrying about having a heatstroke. There's water parks, lakes, and even some splash pads that will keep you and your kiddos cool throughout the summer while allowing you to spend some time outdoors exercising, having fun, and exploring the world around. you!
Wet and Wild Phoenix
4243 W Pinnacle Peak Rd, Glendale, AZ 85310
https://www.wetnwildphoenix.com/
Admission Prices:
Choose Your Day Ticket: $37.99

Any Day Ticket: $45.99

Children Under 42": $35.99

Children Under 2: Free
Arizona's largest water park is the Wet and Wild Phoenix…It's an awesome place to spend the day. Activity, fun, adventure, and all the water you could want to help keep you cool during the scorching hot days of the summer here in Phoenix.
Parks and SplashPads
https://www.phoenix.gov/parks/parks
Includes an interactive map to find the parks and pads closest to you!
Let's talk about the many pars and splash pads that are scattered around Phoenix…there's so many great options that you are sure to find something close to home. That means very little travel time and a great way to let the kids burn off some energy without having to worry too much about them overheating. The splash pads are such a fun addition to the region and they allow us all to have some fun in the sun while still cooling off a bit!
Lake Pleasant Regional Park
https://www.maricopacountyparks.net/lake-pleasant-regional-park-lp/
41835 N. Castle Hot Springs Rd. Morristown, AZ 85342 
(602) 506-2930 ext. 2
Just 45 minutes from downtown Phoenix is the Lake Pleasant Regional Park. it's a 23,362 acre park that offers many activities, such as camping, boating, fishing, swimming, hiking, picnicking, and wildlife viewing. It doesn't matter what you love about Phoenix and the surrounding areas you can experience it at Lake Pleasant Regional Park. The whole family will find things to enjoy and explore a the park. The lake offers boating, fishing, and other water activities so you can cool off. Early morning hiking and biking and viewing the wildlife are also a minimal heat activity! 
Oasis Water Park
https://www.arizonagrandresort.com/oasis-water-park/
Arizona Grand Resort & Spa 8000 S. Arizona Grand Parkway Phoenix, Arizona 85044
(602) 438-9000
Did you know that the Oasis Water Park, which is part of the Arizona Grand Resort and Spa, was voted one of the country's Top 10 Water Parks by the Travel Channel?! Water parks are a great way to cool off while still enjoying some time outdoors with the whole family. In Arizona there's never a bad time for a cool water park or some exciting water based fun.
Big Surf Water Park
https://bigsurffun.com/
1500 N. McClintock Dr./Hayden Rd. Tempe, AZ, 85281
(480) 994-2297
The Big Surf Water Park is just 20 minutes from downtown Phoenix and it is the perfect way to cool off during the hot summer days that we are all gearing up to endure. If you are looking for a fun summer activity that doesn't mean sweating it out you can hit up the Big Surf Water Park for fun in the sun.