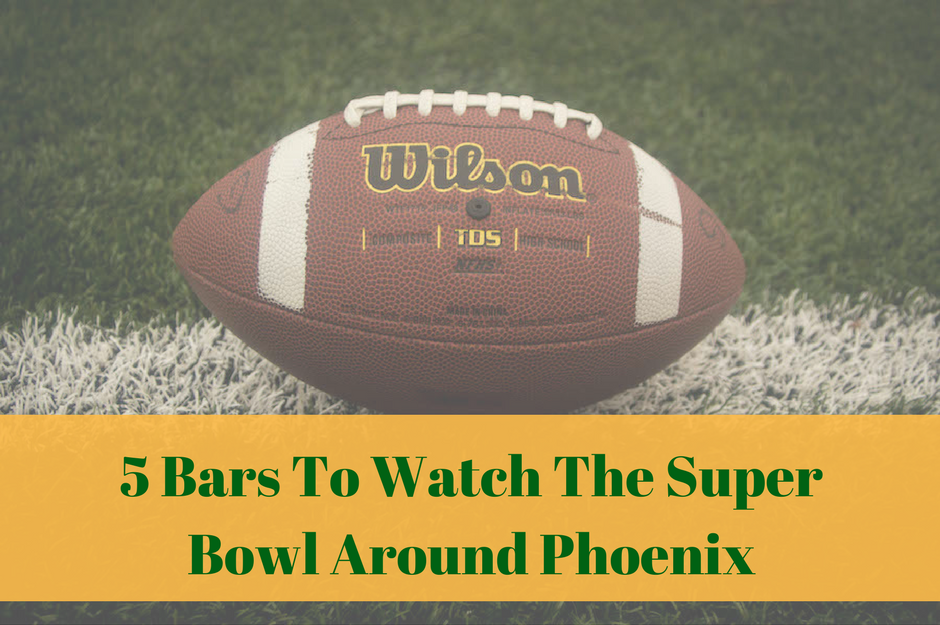 It's almost that time again for the Super Bowl! There are so many great spots around the Phoenix area to catch the big game with your friends, but we have our favorites picked out to make decision making a little easier for you this year. Here are our picks for the top 5 bars to watch the super bowl around phoenix:
1. Coaches Corner Grill | Downtown Phoenix
Located in downtown Phoenix, right behind Chase Field and US Airways Center, Coach's Corner Grill is a family-friendly industrial neighborhood bar. The atmosphere here is laid-back, friendly, and unpretentious. It's the perfect destination for watching the Super Bowl. The menu is expansive, eclectic, and quite good. You'll find signature salads, burgers, and sandwiches prepared with panache and a just the right amount of gourmet flair. You'll also find pasta dishes, Mexican specialties, and a great desserts menu. Even the little ones will be happy here – there's a fun kid's menu. Coach's Corner Grill also has 31 signature drinks and 10 draft beers, many of which can be paired with your burger.
2. Arcadia Tavern | Arcadia
The Arcadia Tavern is a favorite neighborhood watering hole and restaurant featuring big comfy leather booths, picnic tables, and a huge wrap around patio featuring excellent views of nearby Camelback Mountain; making it the perfect spot to watch the big game. The tavern also has a built-in state-of-the-art sound system and several plasma TV screens, making this a great popular place to enjoy sports games and live events. The menu offers typical bar fare, but served with freshness and flair. Guests nosh on a large selection of appetizers, pizza, salads, classic American sandwiches, and a menu of entrees. The large open air doors in the main room open up to allow for year-round al fresco dining.
3. Four Peaks Brewery | Tempe
Four Peaks Brewing Company is a Tempe institution. Situated inside an 1892 Mission-style warehouse, Four Peaks' popularity has skyrocketed in recent years. You can try all eight of their beers, which are on tap at all times, as well as seasonal brews. The indoor dining room has been expanded in recent years, but Four Peaks Brewing Company remains an incredibly popular dining destination, so be prepared to wait during the lunch and dinner rush. Happy hour features half-off beers and food specials. There are also plenty of big screen TVs to watch the big game, as well as a shady outdoor patio.
4. Max's Sports Bar and Restaurant | Glendale
Max's Sports Bar and Restaurant is holding Super Bowl lunch and dinner specials all day for just $6, like barbecued pork sandwiches, french fries and cole slaw. They have great food specials, and have an atmosphere to add to another memorable Super Bowl game.
5. Twin Peaks | North Scottsdale
If Hooters headed for the mountains, you'd have Twin Peaks, a sporty, lodge-themed bar and grill where you'll be tended to by scantily clad Twin Peaks Girls. Head here for the Big Game to fill up on comfort food and the coldest draft beer around—served at a frosty 29 degrees.
Where are you going to watch the Super Bowl this year?