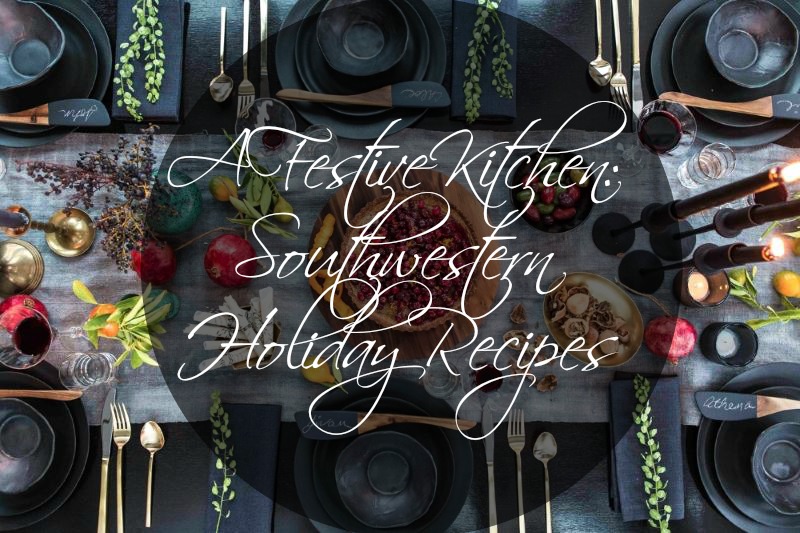 The holiday season brings us more meals, treats and sweets shared with family and friends. No matter what your holiday traditions are, they often involve food. We're feeling spicy and want to bring Southwestern flavors to our holiday table. We've picked out some of our favorite Southwest inspired holiday recipes for you to try at home. Take a look, write down some of your favorites and test them out in your kitchen.
We found this recipe on Everyday Southwest and it comes from Donna Nordin's Contemporary Southwest Cookbook. It is sweet, savory and all around delicious!
Ingredients:
1 cup mashed cooked sweet potato flesh
1 tablespoon lemon juice
1 can (12 ounces) evaporated milk
4 tablespoons dark brown sugar, divided
1 teaspoon cumin
1 teaspoon smoked paprika
1 teaspoon salt
4 large eggs
4 large egg yolks
A little canola cooking oil spray
Instructions
Preheat oven to 325 degrees.
Blend in blender until smooth the sweet potatoes, lemon juice, evaporated milk, 1 tablespoon of the brown sugar, cumin, paprika and salt. Whisk eggs and egg yolks together in a mixing bowl. Whisk sweet potato mixture into egg mixture until very smooth.
Spray 6 one­cup ramekins with a little cooking oil. Sprinkle ½ tablespoon of brown sugar into the bottom of each ramekin. Pour sweet potato mixture into ramekins, filling the cups about ¾ of the way to the tops. Place filled ramekins in a 9 by 13 inch pan. Pour hot water around ramekins to reach halfway up sides of ramekins.
Bake for 50 to 60 minutes in middle of oven, until each flan is set and slightly puffed but not browned.
Remove from oven and let cool to room temperature. Slide knife around inside edge of ramekins. Invert each flan onto a small serving plate. Garnish by sprinkling paprika over tops (if desired) and with hazelnuts spooned around the bottom edge of flan on the plates.
Steps for the Toasted Spiced Hazelnuts:
Bake 8 ounces of whole hazelnuts on a dry baking sheet for 15 minutes at 325 degrees. Remove from oven and
place nuts on one half of a kitchen towel. Fold empty towel half over top of nuts and then rub to remove skins.
Dice nuts and toss with 1 tablespoon of melted unsalted butter. Toss with 2 teaspoons cumin; 2 teaspoons brown sugar; 1 teaspoon smoked paprika and ½ teaspoon salt.

Keep your holiday guests happy while they wait for dinner with these incredible bacon wrapped jalapeno poppers.
Ingredients
20 large jalapeños (about 1 lb.), halved and seeded
20 strips bacon (about 1 lb.), cut in half
1 lb. cream cheese, softened
2⁄3 cup grated Parmesan
2 tbsp. chopped chives
1⁄4 tsp. cayenne
Kosher salt and freshly ground pepper, to taste
Instructions:
Arrange an oven rack 4″ from broiler and heat broiler to high. Place jalapeño halves cut side down on a foil-lined baking sheet, and broil just until softened, 3-5 minutes; set aside.
Place bacon on another baking sheet; broil until fat is rendered and bacon is halfway cooked; set aside.
Turn oven to 425°. Mix cheeses, chives, cayenne, salt and pepper in a bowl. Spoon about 1 tbsp. filling in each jalapeno half.
Wrap each with a strip of bacon and secure with toothpicks. Return to baking sheet and bake until bacon is crisp and filling is melted, 10-12 minutes.
A bright colorful festive drink to try is the recipe from Delish for Pomegranate Margaritas. It is quick, easy and a jug full of this will make you the hit of the holiday season!
Ingredients:
1 can frozen limeade concentrate
2 c. water
3½ c. gold tequila
2 c. pomegranate juice
1 c. triple sec
5 limes
Ice cubes for serving
1 c. fresh pomegranate seeds (from 1 pomegranate)
Instructions:
In large pitcher, combine limeade and water until well blended. Stir in tequila, pomegranate juice, and triple sec.
Cut each lime crosswise into 1/4-inch-thick wheels; cut a slit in each wheel, from center to edge. To serve, place ice cubes and a few pomegranate seeds in each glass; place a lime wheel on rim.
Instructions for Virgin Pomegranate Margaritas:
Substitute 2 cups lemon-lime seltzer for tequila and triple sec. Substitute pomegranate-cranberry juice for pomegranate juice. Proceed as above.

Instead of pie, finish off your holiday meal with oven baked churros! We found an easy recipe from My Recipes and can't wait to share it with family and friends. Who doesn't love fluffy, warm, sugary pastries?
Ingredients
1 (17.3-oz.) package frozen puff pastry sheets, thawed
1/4 cup sugar
1 teaspoon ground cinnamon
1/4 cup melted butter
Instructions:
Preheat oven to 450°. Unfold and cut puff pastry sheets in half lengthwise, and cut each half crosswise into 1-inch-wide strips. Place strips on a lightly greased parchment paper-lined baking sheet. Bake 10 minutes or until golden brown.
Meanwhile, combine sugar and cinnamon. Remove pastry strips from oven, and dip in butter; roll in cinnamon-sugar mixture. Let stand on a wire rack 5 minutes or until dry.
Another Drink we can't wait to serve is this Horchata Coffee Cocktail from Latina.com. It is a drink your guests will love to sip on while they sit by the fire.
Ingredients
1.5 oz Hennessy V.S
1 oz Espresso
1.5 oz Diluted Condensed Milk (diluted 1:1 with water)
.25 oz Grand Marnier
4 dashes Angostura Bitters
Instructions
In a shaker tin add all liquids and shake with ice. Strain into a rocks glass filled with crushed ice. Garnish with fresh grated cinnamon and an orange twist.
We're ready to spice up the holiday table with this recipe for Southwestern Hash from Food Network. We think this recipe can be great for breakfast or dinner. For breakfast, include the egg and for dinner, leave it out.
Ingredients:
1 pound small red potatoes, cut into 1/2-inch cubes
1 tablespoon olive oil
1 small onion, diced (about 1 cup)
1 green pepper, diced (about 1 cup)
3 cloves garlic, minced
1/4 teaspoon ground cumin
1/2 teaspoon dried oregano
1 teaspoon ancho chili powder or other chili powder
3 medium tomatoes, diced (about 2 1/2 cups)
1 can no-salt-added black beans, drained and rinsed
Salt and freshly ground black pepper
1/3 cup chopped fresh cilantro leaves
4 eggs
Hot pepper sauce, for serving
Instructions:
Place the potatoes in a large non-stick skillet. Cover with water, bring to a boil and cook until the potatoes are tender, about 8 minutes. Drain and set potatoes aside.
Dry the skillet with a paper towel. Add the oil and heat over a medium-high heat. Add the onions and peppers and cook until vegetables have softened, about 6 minutes. Stir in the potatoes, garlic, cumin, oregano, and chili powder.
Add the tomatoes and beans and simmer for 5 minutes or until heated through. Season with salt and pepper. Stir in cilantro.
Transfer the hash onto serving plates. With the heat off, wipe out the pan again. Spray it with cooking spray, turn heat on to medium-low and cook the eggs, sunny-side up, or over-easy. Put an egg on top of each mound of hash. Serve with hot sauce.
---
There you have it! These are some of our favorite Southwestern holiday recipes that we are going to break out this year for our friends and family.