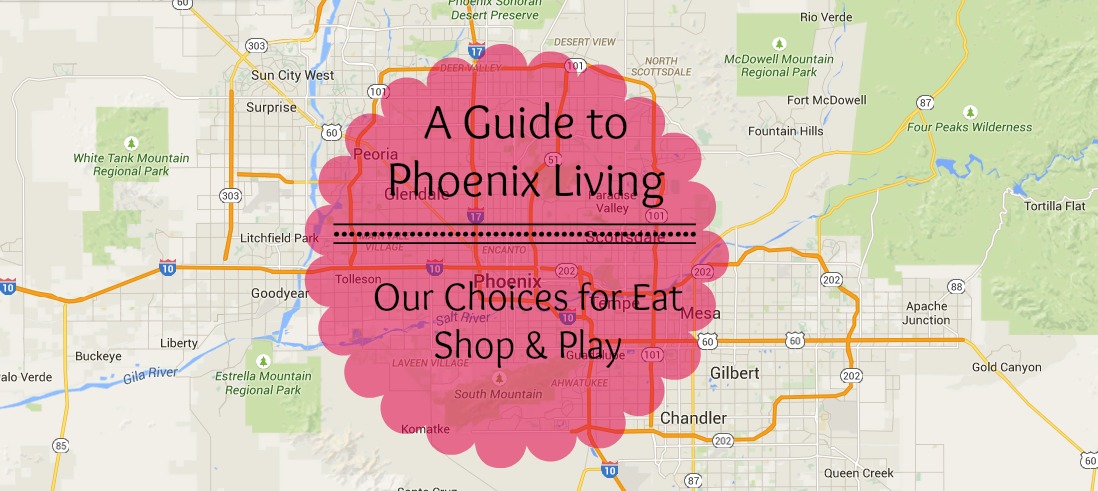 Here at MCLife we believe in sharing the good life and that means giving you the best places to eat, shop and play around our communities. We are going to be posting guides to each city with our favorite restaurants, shops, cafes, festivals, events and more. We want you to get the most out of living at our properties and part of that means giving you information so you can interact with the world around you.
If you haven't heard about our 5-5-5 program, let me tell you about it. The 5-5-5 means we will give you the best 5 places to eat, shop and play all within 5 miles and 5 minutes of each our MCLIFE communities.  This blog is going to focus on 5 of our choices to dine out near our property, The Place at the Fountains at Sun City in Sun City, Arizona. All of the choices picked in this blog are all within 5 miles of our property to make it easier for you to get to and enjoy.
---

Kabuki Sushi
What: Sushi & Japanese cuisine
Where: 8378 West Thunderbird Road #107, Peoria, AZ 85381
Why: They're serving up delicious sushi rolls and Japanese inspired fare
Perfect For: Happy hour, dinner, date night or a night out.
Must Try: The mixed tempura appetizer is a tasty way to start your meal. We also love the shrimp spring roll as an appetizer. The Vegas Roll, Cactus Roll and Salmon Tempura Roll are some of our favorite sushi rolls.
Dominic's Bistro Italiano
What: Homemade pizza and pasta
Where: 10001 West Bell Road, Sun City, AZ 85351
Why: It's a neighborhood restaurant serving up delicious homemade Italian dishes with live entertainment on weekends.
Perfect For: Family dinner, date night or a night out with friends
Must Try: The mozzarella and tomato appetizer is a favorite. We also love the Egg Plant Parmegiana, and the Chicken Francese (sautéed chicken breast in a wine lemon butter sauce with mushrooms). The pizza is great and you can customize your own to your personal tastes.
Benny's Burgers & BBQ
What: Burgers, BBQ, American Fare
Where: 10001 West Bell Road, Sun City, AZ 85351
Why: Get your comfort food fix with items like chili dogs, polish sausage, ribs and chili cheese fries.
Perfect For: casual dining
Must Try: The Classic Vienna Dog is awesome! They have great specialty burgers like the Teriyaki Mushroom Burger (teriyaki sauce, mushrooms, & swiss cheese). The BBQ pulled pork is another favorite menu item, as well as the fried zucchini.
New York West Pastry and Bake
What: Bakery for cookies, cupcakes, pastries, breads & bagels, plus custom wedding cakes.
Where: 10101 Grand Ave, Sun City, AZ 85351
Why: Everything is fresh, delicious and baked by hand!
Perfect For: Breakfast, lunch and your baked good needs
Must Try: Napoleons, cookies, fresh baked breads! Just browse the large bakery counter to pick a variety of treats.
Line Thai Restaurant
What: Authentic Thai Food
Where: 9803 West Bell Road, Sun City, AZ 85351
Why: It's the best place to satisfy your Thai food cravings in Sun City
Perfect For: Casual dining, lunch or dinner
Must Try: Tom Kha Kai (hot and sour soup with lemon grass, mushrooms, chicken with galanga in coconut milk and homemade chili paste). Phad Khing Sod (chicken or pork stir-fried with fresh ginger, chili, onion, and mushrooms). They have great curry dishes as well.
---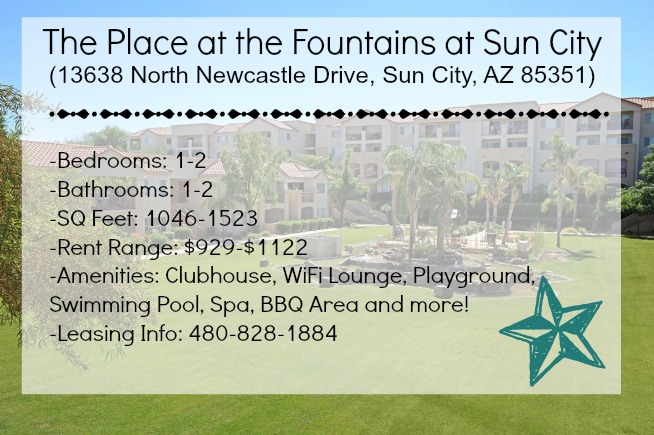 There you have it! Those are our Top 5 Places to Eat in Sun City, Arizona near The Place at the Fountains at Sun City.
The Place at the Fountains at Sun City  is a comfortable, safe and clean apartment complex in Sun City Arizona.  Offering amenities such as: Clubhouse, WiFi Lounge, Playground, Swimming Pool, Spa, BBQ Area and more! If you are curious about leasing or getting a tour at The Place at the Fountains at Sun City you can email: fountains@mccompanies.com  or call: 480-828-1884
Each of these restaurants come recommended to you by the fine folks at MCLifePhoenix with Apartments in Phoenix , Apartments in Scottsdale , Apartments in Sun City , Apartments in Flagstaff.