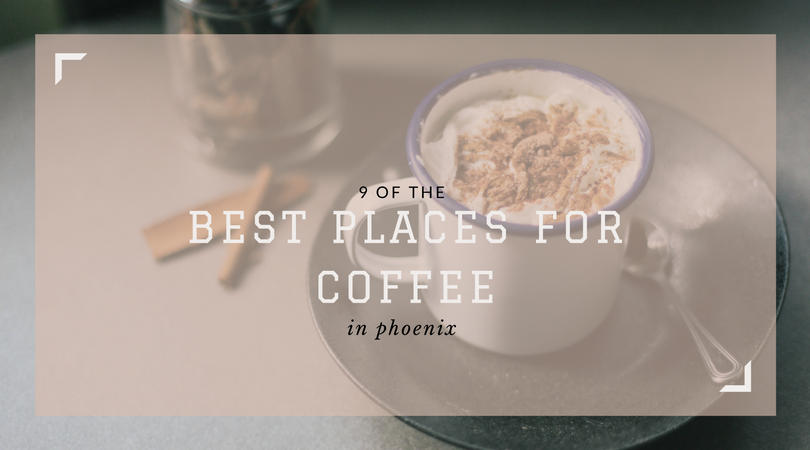 National Coffee Day is on September 29th so have a cup of joe at some of the best places for coffee around Phoenix.
1. Echo Coffee
Where: 2902 N 68th St, #135, Scottsdale, AZ 85251
Echo Coffee is a rather large coffee shop, wanting it's patrons to be able to sit down and enjoy their coffee! It describes itself as a "micro coffee roaster and coffee shop, which seeks to provide a setting for great coffee in a friendly setting that promotes community, while serving fresh, organic products." Plus, there's free wifi which is always nice.
What to Order: A Latte with almond milk seems to be people's go-to orders!
2. Cartel Coffee Lab
Where: 7124 E 5th Ave, Scottsdale, AZ 85251
"Coffee is their craft" at Cartel Coffee Lab. This is the perfect place to grab a cup of coffee that's unlike your usual Starbucks brews. It's got plenty of places to sit and enjoy your cold brew or latte and lots of people describe it as "hip and chill"
What to Order: The cold brew!
3. Press Coffee Roasters
Where: 5147 N Scottsdale Rd #102, Scottsdale, AZ 85254
Their mission is to "provide the highest quality products and services while sharing our knowledge and passion with our valued customers." And this is something we can get behind, especially when it comes to coffee! Everything is fresh and organic and the latte art is incredible!  And periodically they offer classes about coffee — how cool!
What to Order: The Chai!
4. Maverick Coffee
Where: 10269 N Scottsdale Rd, Scottsdale, AZ 85253
This dog friendly coffee shop is great for a work meeting or just to get some work done! There's a big meeting room that's up for rent that works for when you want to get out of the office but still want to get work done with your team. It's a great place to relax with your pup and enjoy a nice cup of coffee.
What to Order: A regular latte!
5. Lola Coffee
Where: 1001 N 3rd Ave, Phoenix, AZ 85003
A great place to have a cup of coffee and a yummy bakery item! There's plenty of outdoor seating so make sure you take advantage of it during the fall!
What to Order: The Matador!
6. Berdenas:
Where: 7051 E 5th Ave Suite I, Scottsdale, AZ 85251
Berdena's mission is "to have a warm and inviting space for the community to connect and converse while enjoying fine coffee and delicious homemade food" It's a nice little space that's simple and homey!
What to Order: On the coffee front, the almond milk latte is the way to go! But don't forget to try the waffles!
7. Lux Central
Where: 4400 N Central Ave, Phoenix, AZ 85012
Probably the trendiest spot in Phoenix. With it's massive space and large menu to match, Lux is the place to go when you're in Phoenix and want to get some work done — just make sure you get there early to get a spot!
What to Order: A dirty Chai or a regular Chai!
8. Sip Coffee and Beer House
Where: 3617 N Goldwater Blvd, Scottsdale, AZ 85251
A smaller place that's got a very chill vibe! Sometimes there's live music playing and they have the belief that "many of the original materials you see in our space will have been reclaimed from the original building. Most of furnishings and decorations inside have been handmade or picked from Arizona yard sales or antique shops. Being a part of the Creative Center's Green Initiative, recycling and sustainability will be a continuous goal."
What to Order: Cold brew with almond milk!
9. Winfield's Coffee
Where: 7025 E Osborn Rd, Scottsdale, AZ 85251
A hidden gem in the Valley! This coffee house is a great place to go when you just want to relax; of it's comfortable seating and great live music on certain nights! Plus it's attached to a non-profit organization!
What to Order: Skim Latte!