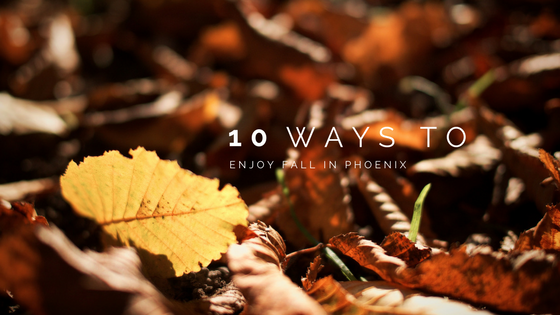 The first day of Fall is on September 22nd so get ready for changing leaves, warmer clothes and pumpkin spice everything.  We came up with 10 Things to do in Phoenix during September, and now here's 10 ways to enjoy Fall in Phoenix!
1. Watch a "Fall" Movie
Cozy up with your favorite blanket and a cup of hot cocoa to watch your favorite fall inspired movie! This can be either a Halloween themed one, or just one that takes place in the fall. Either way, it's a nice way to spend a weekend.
2. Pumpkin Patches
The most fall thing you can do is head over to your local pumpkin patch and grab a pumpkin! You can use one to decorate or to make delicious fall desserts. Plus, most pumpkin patches have other fall activities that the whole family can join: apple cider tastings, pumpkin decorating contests or even hayrides! Here's a List of pumpkin patches around Phoenix!
3. Enjoy the Outdoors:
Just take a walk! Fall in Phoenix is such a nice time of year, it would be such shame to waste it. So get outside and walk around your neighborhood or go to the Desert Botanical Gardens. A walk is a great way to enjoy fall and it gets your blood moving, plus the whole family can join in!
4. Attend Scottsdale ArtWalk
Going hand in hand with taking a walk around Phoenix — head on over to the Scottsdale ArtWalk. There's plenty of amazing art, food and activities that are perfect for a date night or a nice family outing! ArtWalk happens every Thursday night!
5. Tailgate at a Football game:

Fall means Football, which leads us to tailgating. Grab a couple of friends and head on down to the stadium! This is a great way to hang out with friends, enjoy the weather and then go watch your team play. Check out the schedules for what games are coming up and when.
6. Go antiquing
A classic Fall Adventure is heading to your local antique store and finding some knick knacks. This is something that can take up a whole day if you do it right — plus there's plenty of ways to do it. You can go to your local market or hit up an antique store. A popular antiquing event is the Junk in the Trunk market that happens on the weekends and you can find more information here
7. Decorate your home or room for the season.
Get your home ready for Fall with some fall inspired decorations! Hang a wreath, set up a pumpkin on the porch, or light some ~fall smelling~ candles. You can do a lot with fall as your theme for your home — and here are some DIY options from Country Living!
8. Eat some and drink fall favorites.
Fall is probably the best time for treats and drinks. There's cocoa, cider, pumpkin-spiced lattes, pumpkin pie, apples, candy corn and so much more! So why not enjoy these gifts? Embrace the season through your stomach with some fall treats and drinks. Here's a recipe for you to try out:  Apple Pumpkin Gingerbread Muffins
9. Attend a Fall Festival:
Phoenix has plenty of different Fall Festivals for you to attend! Ranging from family fun to ones that are best spent with your BFFs, embrace fall by going to one of these Fall Festivals: Phoenix Fall Festivals
10. Take a roadtrip!
Phoenix is obviously beautiful during the fall, but so is the rest of Arizona! Head up to the mountains and watch the leaves change or go on a little adventure. Fall is all about change, so change your weekends up with a fun little roadtrip!
Enjoy fall this season and let us know what else you do to enjoy fall in Phoenix!