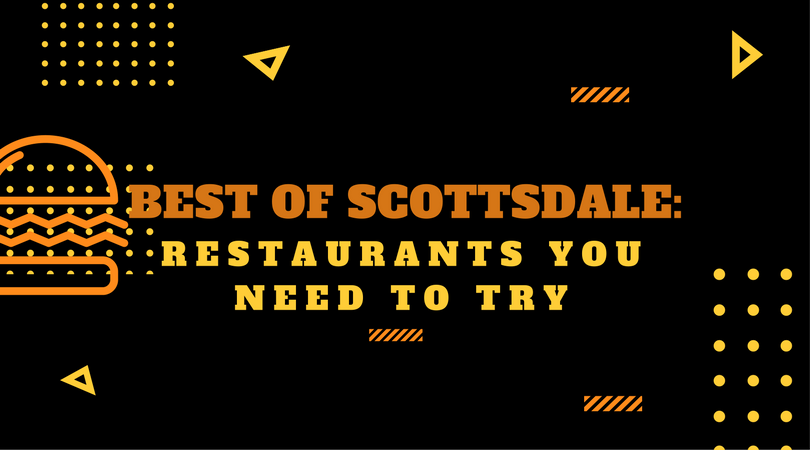 There are a ton of restaurants in Scottsdale – it's hard to choose where you should go. Lucky for you, we came up with 5 restaurants in Scottsdale that you NEED to try! I may have only been a Scottsdale resident for a month but finding the best places to eat was at the top of my list. 
1. The Mission
Right in Old Town, The Mission is the perfect place to go if you're craving Mexican food. I've been here twice now since I've moved to town and I've fallen in love with it. Yes, it's a little pricey, but it's so worth it. The homemade guacamole is made fresh at your table while the tacos are just enough food for a person. I highly suggest it as a date night or as a place to take your family when they come into town.
2. Rehab Burger
A very popular place in Old Town and for good reason! This beach themed burger bar is such a chill place to get a burger. The portions are massive and well worth the wait (if there is one) I think this is a great place to take your friends or your family for a fun, casual night out! 
3. Culinary Dropout
Even though I've only been to the Phoenix one, I think the Scottsdale one is probably the same. The food is great and nicely sized for the price. It's the place to be on a Friday night with a group of your close friends! Celebrate something or someone and make sure you try the pretzels!
4. Bandera
Another great spot in Old Town! If you're in the mood for some comfort food with a twist, head over to Bandera. This restaurant is great for family dinners; it's got something everyone likes!
5. True Food Kitchen
I've been looking for a place that's good, but also a little bit healthier and I stumbled across True Food Kitchen! They "take great pride in a menu that caters to nearly every food preference with a variety of gluten-free, naturally organic, vegetarian and vegan offerings." So this is a great place for those who want to eat a bit healthier but still have delicious food!