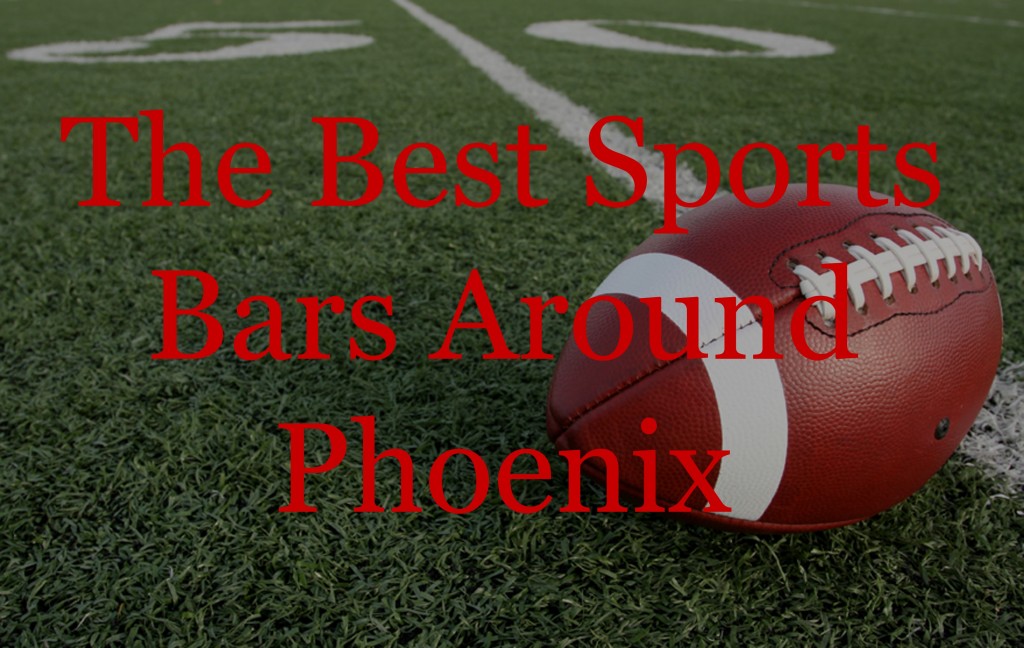 Are you ready to watch the Arizona Cardinals face off against the Green Bay Packers this weekend? We're putting on our red and black and getting ready for a fight! Do you know where you'll be watching the game? We've picked out a few of our favorite sports bars around Phoenix to catch the playoffs!
O.H.S.O (Multiple locations)

Where: O.H.S.O. Eatery + nanoBrewery – 4900 E Indian School Rd, Phoenix, AZ 85018 (Phoenix)
O.H.S.O. Eatery + Distillery – 15681 N Hayden Rd Ste 112 Scottsdale, AZ 85260 (Scottsdale)
Why: We are big O.H.S.O fans! They have a large dog-friendly patio if you are looking to sit outside, and the inside is cool, hip and has plenty of TV's. Sip on cold craft beer while you catch the game. They have brunch on weekends from 9:00am – 2:00pm. Plus on weekends they do a Back Yard BBQ on the patio from 3:00pm – 7:00pm with all killer BBQ. The food is good, the beer is cold and it is a great place to go with a group of friends.

Where: Multiple locations throughout the valley
Why: There is never a lack of TV's at Zipp's Sports Grill so you have a good view no matter where you sit. They have decent weekly and nightly specials so you don't break the bank when you go out. Share a pitcher of beer with your friends, or order a signature Zipparita (limit 3) and watch the game. They've got your basic bar food that pairs well with cold beer.

Where: 24 N 2nd St Phoenix, AZ 85004 (Downtown Phoenix)
3095 W. Chandler Blvd. Chandler, Arizona 85226 (Chandler)
4425 N. Saddlebag Trail Scottsdale, Arizona 85251 (Old Town Scottsdale)
Plus a few more locations!
Why: One great think about Majerle's is that the food is good, and the drinks are too. It is sometimes hard to get both at sports bars. The atmosphere is laid back, cool and they're pretty updated. It isn't a dive bar by any means. Owned and created by Dan Majerle, a Phoenix Suns legend, this bar is meant for watching and enjoying sports. There are locations throughout the valley for you to enjoy.

Where: 14850 N Northsight Blvd, Scottsdale, AZ 85260 (North Scottsdale)
Why: Check out K O'Donnell's Sports Bar & Grill in North Scottsdale for great food, cold beer, and a large pet friendly patio! With 16 beers on tap and 50 TVs for your viewing pleasure, it is one of our favorite spots to settle in for a game with friends. Plus during the week they offer trivia nights, poker tournaments and sporting events. You can't go wrong with a burger, but the FU – GET – ABOUT – IT pizza has everything you could ever want on a pizza: tomato basil marinara, mozzarella, provolone, pepperoni, Italian sausage, diced tomatoes, artichoke hearts, roasted sweet peppers, black olives and fresh basil. Yum!

Where: 1904 E Camelback Rd, Phoenix, AZ 85016
Why: Armadillo Grill is your quintessential American sports bar, with a full menu and bar, pool tables, more than 25 TV's and even off-track betting for the gambling man. It is an unassuming, smaller spot but it is a good place to hang out and catch a game with friends. They have different food and drink specials every day. Saturday during the playoff game, it is Happy Beer All Day which means you'll get $1.00 off all beers, all day and half off the munchies menu until the kitchen closes.  Try it out!