Every year, Autism Speaks holds walks throughout the country to raise awareness, support and donations for autism programs, education and research. Thousands of people come to each of these events and they all have their own personal reason for walking. Why do you walk?
We would like to shine a light on one special team: Team Blain. April Tucker, Team Captain for Team Blain, shared the story behind the team, their inspiration and goals: "Just three years ago our son Blain was age three and newly diagnosed with Autism Spectrum Disorder. We knew Blain had a speech delay and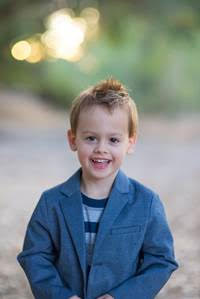 his own little quirks but this diagnosis completely caught us by surprise… It was devastating…  To know that my happy, kind, funny, sweet little boy had a much, much bigger mountain to climb tore my heart apart. If you know Blain you know he is always happy, extremely social, very intelligent and has the biggest heart of any child I know. This last year we have spent many, many hours getting Blain the help he needs. 
Our mission is to spread autism awareness, participate in events, and to encourage patience and education in our community. Supporting the Walk is an easy way for us to help spread awareness and raise funds for an organization that means so much to families like ours. We have created TEAM BLAIN with a current fundraising goal of $5,000.  We've only just started to recruit friends, family, and members of our community to join us at this wonderful event and we've already raised almost $2,000!  We have sent emails and posted information and our team website on our social media pages – all to share our story and why this event means so much to us. We have personally used the services provided by Autism Speaks and SARRC this last year and know first-hand how much these organizations make a difference!"
Team Blain is one of many that are walking this October in Tempe to make a powerful statement about autism awareness and education. Show these incredible walkers that they are not alone and get involved with Arizona Walk Now for Autism Speaks.
Join us on Sunday October 25, 2015 at Tempe Beach Park and be part of this one of a kind community event. Registration and the Fun Fair starts at 8am. The event includes: 5K or 1-mile family walk routes, an autism resource fair, kids activity zone, live music and entertainment, plus much more!
Register your own team!
Join another team!
Make a donation!
So what are you waiting for? Who will you walk for?