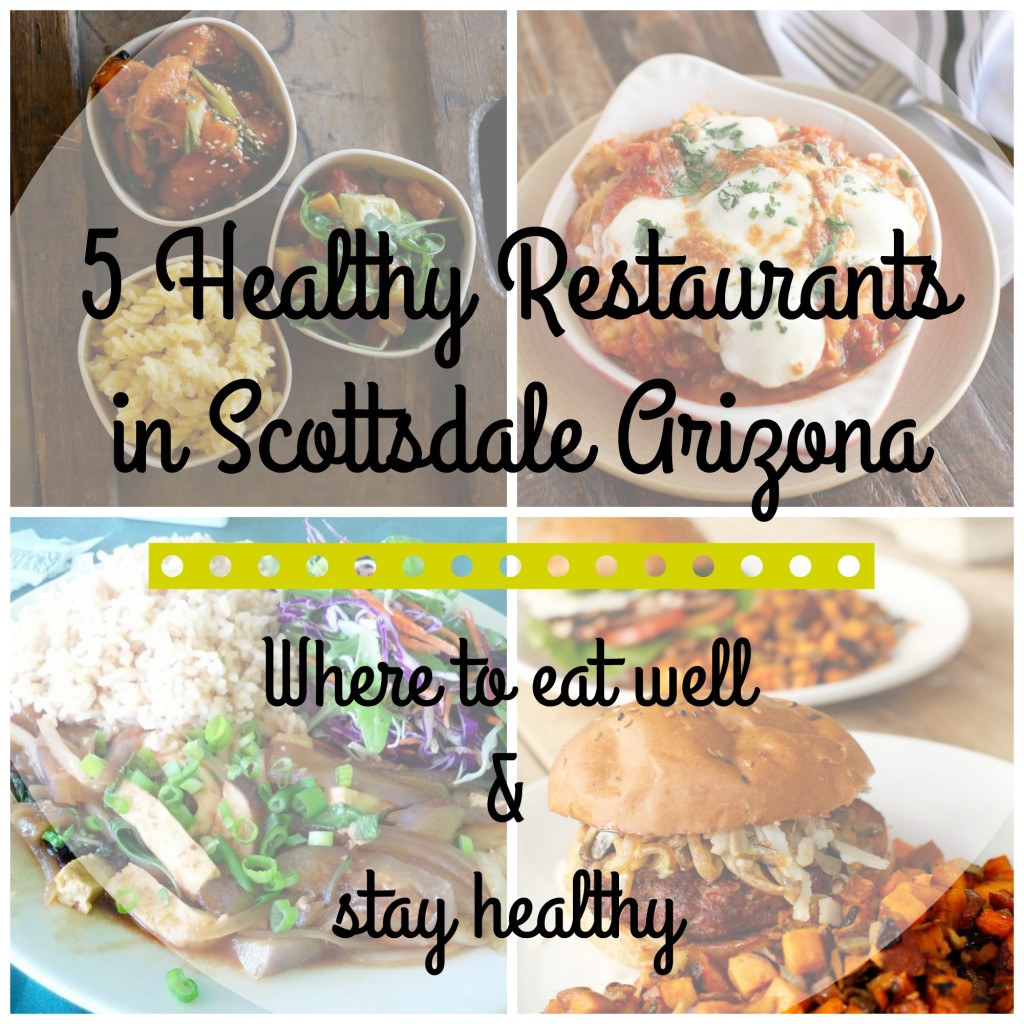 Making smart food choices isn't always easy. Especially with so many fast, easy options at every corner. If you have any dietary restrictions, are Vegan or Vegetarian, finding good places is to eat is even easier. We are bringing you 5 Healthy Restaurants in Scottsdale.


Where: 21050 Tatum Blvd #108, Phoenix, AZ 85050
What: Tryst Café is a hip little spot serving up organic, and health-conscious breakfast, lunch and dinner. Sit on the patio while you enjoy your meal and sip on organic wine or beer. It's one of our favorite spots for brunch. You can also stop by for weekly happy hour from 3pm-6pm with $2 off all menu items.
Must Try: If you're after a healthy breakfast go for the Super Kale Omelet (Egg white omelet with sautéed kale, spinach, roasted tomato, goat cheese avocado and flax seed served with cottage cheese and fruit). To spoil yourself at brunch, go for the Hawaiian Breakfast (Two fried eggs, fresh house smoked kalua pork, cabbage, jasmine rice and wonton crisps). If you go for lunch get the Desert Ridge Spring Rolls for a starter and the Grilled Chicken and Goat Cheese Salad.


Where: 15191 N Scottsdale Rd, Scottsdale, AZ 85254
What: True Food Kitchen is a cozy little spot serving up healthy meals, with plenty of vegan options. This eco-chic restaurant has a great patio, yummy weekend brunch and killer cocktails. Despite being a chain, you know you'll be getting a fresh, delicious meal. You can order healthy fruit and veggie filled juices and smoothies to go with your meal.
Must Try: Brunch is all about the Organic Huevos Rancheros and the Market Vegetable Scramble. They have crazy good starters, like the vegetarian Edamame Dumplings and the Kale & Avocado Dip. They also have great pizza, salads and sandwiches.

Where: 15689 N Pima Rd, Scottsdale, AZ 85255
What: If you're eating on the go, then stop by GrabbaGreen. They've got breakfast and lunch bowls, plus fruit juices and smoothies so you can eat well even if you don't have a lot of time.
Must Try: The vegetarian French Quarter (Brown Rice, Shrimp, Red Pepper, Avocado, Red Onion, Cayenne, Parsley, Creamy Avocado) is one of our favorite bowls. The Sonoran Breakfast Sandwich (Quinoa Cake, Egg, Cheese, Chili-Mango Hot Sauce) is a great way to start your morning.


Where: 13802 N Scottsdale Rd #161, Scottsdale, AZ 85254
What: Fresh Mint is a small, intimate café serving up vegetarian fare with Vietnamese flavors and inspiration. Sit out on the patio while you enjoy flavorful food you can feel good about. Aside from fresh vegetarian meals, they have a gluten free menu as well.
Must Try: We love the Pad Thai – it's great for lunch. The Golden Curry Vegetables (Potatoes, carrots, sweet potatoes and tofu infused in our coconut curry sauce) are another favorite. The Five Spice Noodle Soup (Five spices in mildly sweet vegetable broth served with rice noodles and marinated soy beef, topped with tofu, side of bean sprouts and basil) is another favorite.

Where: 5013 N 44th St, Phoenix, AZ 85018
What: Flower Child is one of the latest trendy restaurants in Scottsdale. Loved for it's globally inspired menu and roomy atmosphere, Flower Child is serving up natural, organic and locally sourced ingredients.
Must Try: Flower Child has yummy salads and the whole grain wraps are killer. You've got to try the gluten free mac n cheese – it is heavenly.
Tryst Café Images Via: Yelp
True Food Kitchen images via: yelp
GrabbaGreen images via: Yelp
Fresh Mint Images via: Yelp
Flower Child Images via: Yelp