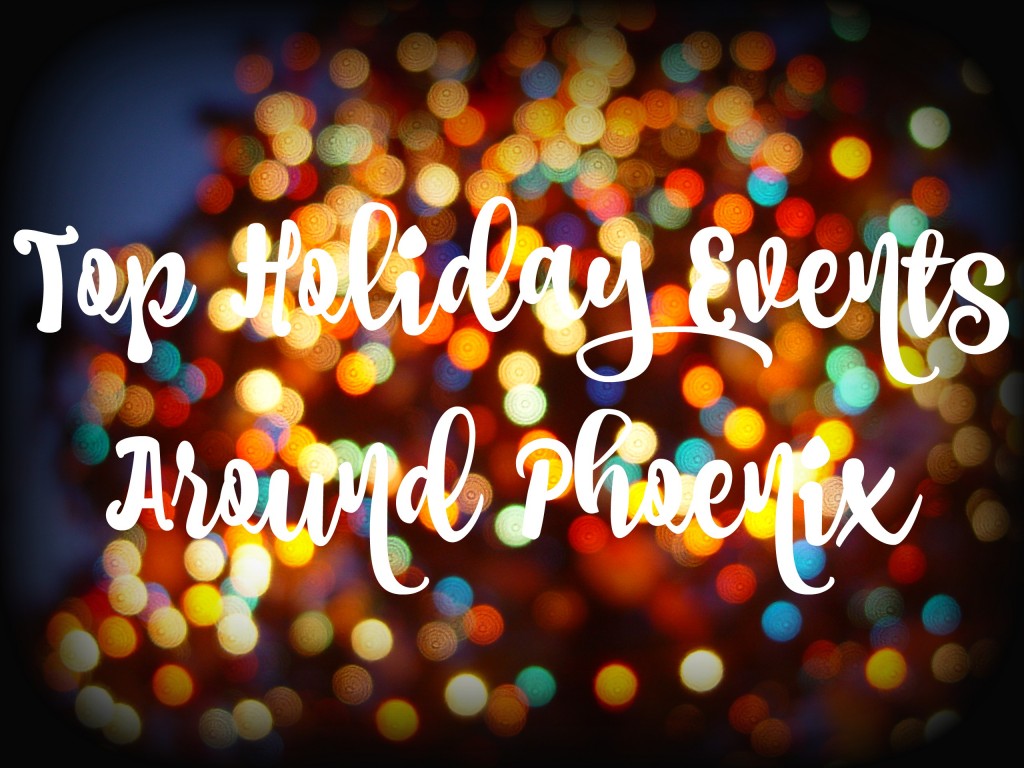 The holidays are coming which means the Valley will be buzzing with festivals, concerts, Christmas markets and more to celebrate the winter season. Whether you're looking for unique holiday gifts, events for the kids or simply some weekend fun, there is something for everyone. Get ready to mark your calendars! These are the top holiday events around Phoenix.
MACFest
Where: Downtown Mesa
When: Nov 7th & 21st, Dec 5th & 19th, Jan 2nd & 16th (10am-5pm)
What: Come on down to MACFest and walk the streets of Downtown Mesa as you listen to music, sample food and browse art. It is a great event that encourages the support of up and coming and established local artists and crafters. Admission is free! This is a great place to find unique holiday gifts.
The Big Heap
When: Nov. 20 – 22, 2015 (Friday & Saturday: 9am -4pm; Sunday: 9am-3pm)
Where: Salt River Fields at Talking Stick (7555 N Pima Rd, Scottsdale, AZ 85258)
What: The Big Heap is a huge flea market and vintage/handmade festival that will lead you to some great finds! This "Vintage WoodStock" festival at Salt River Fields is a great place to find unique gifts for people on your holiday list. It's a fun, quirky way to spend a Saturday or Sunday!
When: Nov. 21, 2015 (10am-2pm)
Where: Shepard of the Valley Lutheran Church (1500 W Maryland Ave, Phoenix, AZ 85015)
What: The Swedish Christmas Market is hosted by the Swedish Women's Educational Association. There will be Swedish arts and crafts, swedish antiques, handmade "tomtar" and ornaments. Plus enjoy delicious eats from food vendors, and homemade Swedish baked bread, pastrees, coffee and more! There will also be craft activities for children, dancing around the Christmas tree and a visit from Santa!
When: Nov. 27 – Dec. 31, 2015 (5:30pm – 9:30pm)
Where: Desert Botanical Gardens (1201 N Galvin Pkwy, Phoenix, AZ 85008)
What: Las Noches de Las Luminarias has become a holiday tradition for many in the valley. Head down to the Desert Botanical Gardens and walk through the park as it is lit by candlelight from thousands of luminarias. Plus there will be songs by carolers, handbell choirs, mariachi bands and hot cider.
When: Nov. 27-29, 2015 (Friday & Saturday: 9:30am-5pm; Sunday: 11am-5pm)
Where: Heard Museum (2301 North Central Avenue Phoenix, AZ 85004)
What: The Ornament Marketplace at the Heard Museum features hundreds of handmade ornaments from Native American artists and celebrates the Christmas spirit through tribal traditions, in many different styles. It's a fun, alternative shopping opportunity that will bring new spirit and culture to your Christmas tree.
When: Dec. 4-6, 2015 (10am-5:30pm)
Where: Downtown Tempe (310 S Mill Ave A201, Tempe, AZ 85281)
What: Stroll through the streets of Downtown Tempe and view work from hundreds of artists and craftsmen. This is the 47th year of Tempe Festival of the Arts and there will be live music, street performers, and crafts for the kids, as well as beer and wine tastings for adults. It is a family friendly event that will help you get into the holiday spirit, and hopefully mark a few items off your holiday shopping list.

When: Dec. 5, 2015
Where: WestWorld of Scottsdale (16601 North Pima Road, Scottsdale, AZ 85260)
What: Presented by Tranquility Trail Animal Sanctuary, the Holiday Pet Festival is a holiday shopping event that is designed for you and your four legged friends. Find great pet presents, get Fido's picture taking with Santa or adopt a furbaby from the local adoption organizations on site! It's a heartwarming holiday event for the whole family.
When: Dec. 5, 2015 (Noon-9pm; Parade at 3:30pm; tree lighting at 6:30pm)
Where: Queen Creek Town Square/Queen Creek Library (21802 S. Ellsworth Road)
What: Queen Creek's Annual Holiday Festival & Parade has become a tradition for families throughout the Southeast Valley. Enjoy a festive parade, snow, holiday themed rides, free pictures with Santa and a tree lighting once it gets dark. There will be craft and food vendors will be selling local and speciality foods, plus Christmas gifts, hot chocolate, cookies and cocktails for those over 21.
When: Dec. 11-13, 2015 (Friday: noon-6pm; Saturday & Sunday: 10am-6pm)
Where: Margaret T. Hance Park (1202 N. 3rd Street Phoenix AZ 85004)
What: Phoenix Festival of the Arts is a free family friendly festival with great art, entertainment and more than 125 vendor booths. This event celebrates local arts and culture and includes a Family Zone as well as food from local food trucks.
When: Dec. 11-13, 2015 (Friday & Saturday: 10am-9pm; Sunday: 10am-5pm)
Where: Carefree Town Center
What: Head to the North East Valley to the Carefree Christmas Festival for a visit with Santa, 32 tons of snow, photos with elves, and holiday gifts. There will be a fireworks display following the Electric Light Parade at 6pm. Plus the Holiday Pet Parade is un Sunday at 10am so dress your pet up and bring the whole family!
When: Dec 12-13, 2015 (Saturday & Sunday: 10am – 5pm)
Where: Mesa Arts Center (One East Main St Mesa, AZ 85201)
What:  Mesa Arts Festival features work from local, regional and national artists on display and for sale. Plus there will two stages with live entertainment, family activities, plenty of food to choose from and live artist demonstrations happening all weekend long! Don't miss out!
Images via: 1 / 2 /  3  / 4