Did you know that your community has grills that you can use?! They're an amazing part of the amenities that we offer at MCLife but you should always grill safely. Today we're sharing some tips on grill safety so you can cook up the fun all summer long without any accidents!
Check out these tips to learn how to get the most out of your grilling season (and out of those included grills at your apartment community) without setting the place on fire or getting injured!

What might seem like common sense can be anything but common when things flare up (literally) in the blink of an eye. Brush up on your grill safety and get down to cooking some tasty summer classics!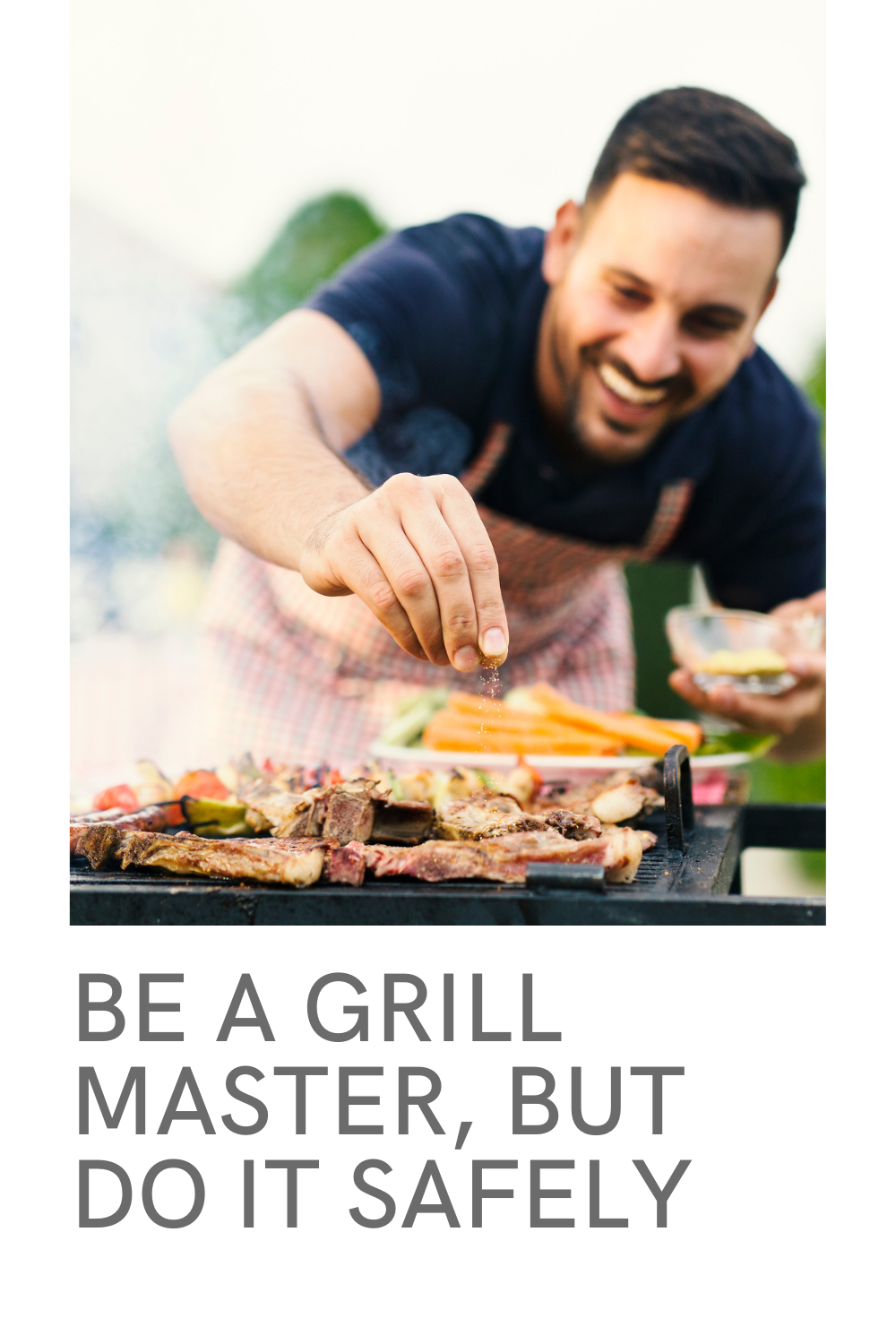 Grilling Safety Tips & Tricks
Before we get started it's important to remember why we're taking a look at grilling safety in the first place. More than 10,000 home fires are started by grills of varying kinds each year in the United States. That's no small number. We want to be sure that you don't become a part of those statistics.
These grilling safety tips and tricks are the best way to make sure that you don't end up having a bummer of a summer recovering from a home fire. Don't let the grill take all the fun out of your summer cooking experience. Use these tips to make sure that every meal you cook up outdoors is a mouthwatering feast and nothing more!
Grill Away From Structures
Even if your grill is outdoors (where it should always be) you might be tempted to cook or grill on the patio, porch, etc. Keep the grill away from any structures to help minimize the chance of any fire leaping to buildings or outdoor structures.
Keep The Grill Stable
If you are moving the grill around to get to the perfect spot, be sure that it's stable and secure before you light it up!
Keeping the grill on a balanced and even surface with all legs and wheels safely and securely fastened is priority #1 before it can be lit.
Clean The Grill First
Cooking on a clean grill is the safest and best option. Not only will your food taste much better but you will also be practicing grilling safety by making sure that your grill is clean.
Grease and food build-up in grills can cause fires and burnt food. You don't want any of that so make sure to keep your grilling space clean and fresh!
Check For Gas Leaks
If you are cooking with propane it's important to inspect your tank, connections, and hoses before you turn on the gas or light the flames.
Leaking gas can cause explosions, fire where you do not want it and more. Be sure to keep your grill tanks and hoses in good working order and replace any necessary connections before starting off the grilling season!
Don't Relight The Grill Too Quickly
Another important grilling safety tip to remember is that if the flame goes out for some reason you need to wait to relight it. Turn off the gas, let the lid open, and give the built-up gas some time to dissipate before you try and relight the flames.
The built-up gas can explode if it is lit while contained inside the hood of the gas grill which we definitely do not want!
Keep An Eye On That Grill
Grilling is a fun activity that we all like to enjoy in the summer. It can be distracting when there are people around, fun to be had, drinks pouring, etc. Make sure that while you are grilling you are staying with the grill and keeping an eye on what's cooking.
Don't walk away or leave the grill unattended, especially if you have kids or pets who could knock the grill over, touch a hot surface, or something similar.
Use Starter Fluid Wisely
Make sure if you are using charcoal that you are using lighter fluid responsibly. It can be tempting to play with fire, lighter fluid for charcoal only makes this a more tempting situation.
Be sure to use proper grilling safety by following the instructions on the starting fluid and using it responsibly to get your coals nice and hot for cooking!
Keep Clothing In Order
Grilling can go wrong in a hurry when flammable clothing bits ignite. Clothing can be very flammable and shirttails, apron strings, and more can easily be caught in the flames. Be sure to keep them tucked in and well away from the open flames to keep yourself and those around you safe this summer!
Be Prepared For A Fire
The best grilling safety tip is to be prepared for a fire. Keep some baking soda nearby to help smother grease fires and if you don't have an appropriate fire extinguisher you can always keep a bucket of sand nearby to help douse any flames that get out of control.