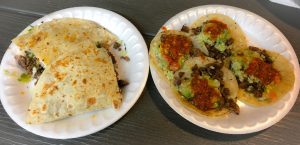 With the popularity of TACOS these days it seems like every restaurant you go to is serving up some sort of taco. I've eaten at a couple places whom serve up a pretty impressive taco, but are pretty pricy for what you get. Ever since moving to Arizona I have been in search for the perfect taco. From all the restaurants I have ate at, I wasn't really impressed with what I got, until recently.
I was introduced to a taco truck permanently posted in Central Phoenix serving up tacos not only easy on the wallet, but jammed packed with lots of meat and toppings well worth more than the $1.00 they charge for each. Taqueria Los Yaquis is Central Phoenix's well-kept secret on Camelback road and worth all the hype.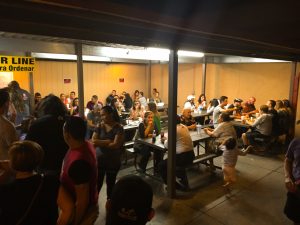 Upon arrival I was in shock of how long the line was to order. Families and friends wait patiently and eagerly to order these tacos and they all agree are the absolute best in town. Even with the line being long, everyone was in good spirits, laughing and joking around knowing that in just a few minutes they will be experiencing pure taco bliss. Although the line looked long I was able to order in no time. The taco truck is loaded with cooks slamming out tacos and other delicious eats. Trust me, your order takes about 5 minutes to coo up, then it's TACO TIME!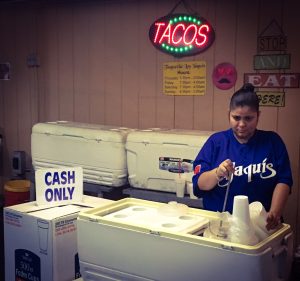 My order included freshly made Horchata, a sweet iced rice beverage, a couple of carne asada tacos, and a carne asada quesadilla. Soon after I picked up my order, I was in food shock on how huge the portions were. My tacos came topped with the perfect amount of fresh salsa and my quesadilla was stuffed with so much cheese and meat, I knew I was only going to be able to eat up half of it. Looking around for a place to enjoy such an enormous amount of food can be challenging. Although, seating is limited, I was able to squeeze in at one of the tables with another family and chow down.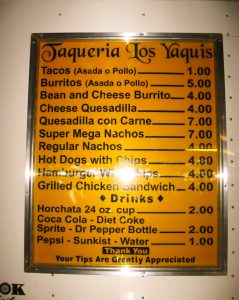 My first bite in, I was in taco heaven. I couldn't believe these $1.00 tacos drove in such a flavorful punch. I was thinking, why did it take me this long to eat here. I ate all four tacos ordered in a flash and by the time I started on my quesadilla I had very little stomach room to spare. The couple of bites of quesadilla I had were simply amazing. The quesadilla tortilla was crispy and the cheese didn't overpower the flavor of the meat. I was able to eat about half of my quesadilla, so I took the rest home and reheated it the next day for lunch. I left Taqueria Los Yaquis satisfied and daydreaming of what I am going to order the next time I am here.
Taqueria Los Yaquis is located on Camelback road just near 7th avenue. Indulge your taste buds late night or for dinner, either way you won't be disappointed.