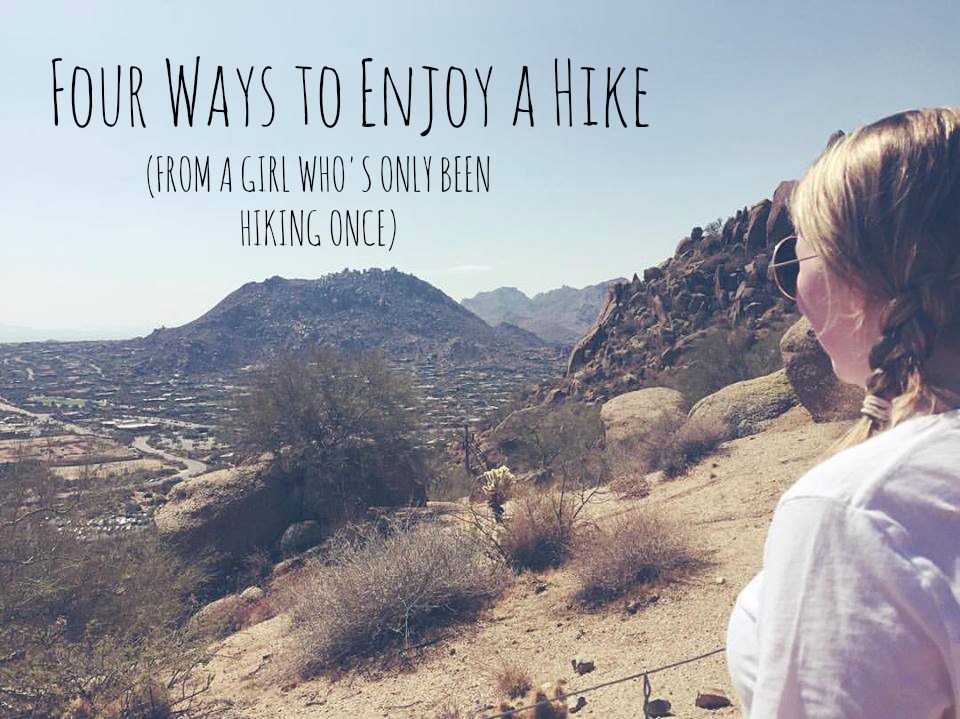 Moving across the country has been one of the coolest things I've ever done. No pun intended; it's REALLY hot out here. I'm originally from Pennsylvania, so the lack of green is sad, but the amount of hiking that people do here is incredible. Every person I've met has talked about hiking and it was kind of interesting to me.
I have never truly been hiking. And, whenever someone bragged about how good they were at hiking, I thought that they were just being ridiculous. Hiking was just walking. My idea of hiking can be summed up by a quote from comedian Iliza Shlesinger, who says, "To the average girl, hiking is: you wake up whenever you want; you put on your Lululemon leggings 'cause they make your butt look unreasonably good and you go for a walk in the park with your best friend and complain about how hungover you are. That's hiking."
Pretty much sums it up for me. But all of that changed when I finally went hiking at Pinnacle Peak right here in Scottsdale. I learned what hiking really was and boy, do I have some tips for all you first-timers.
1. Do Not Wear Converse Sneakers
This is not a fashion show, this is a hike. Your Converses were made for walks in the mall, not hikes up a mountain. Your Converses will end up dirty and there will be a tear in the side from where you tripped over a rock and you will be sad.
2. Bring Water
Even though you leave at 7:30 in the morning, the sun is already up which means, you're pretty much directly in the sun for the entire Pinnacle Peak hike. The temperature is already at 95 degrees by the time you start your hike and we all know it only goes up. Your water will be gone before you even get to the first steep part. And then you'll have a dry mouth and resort to swallowing your own spit until you can find some water. Gross.
3. It's a Hike, Not a Marathon
There's no reason to haul your booty up the mountain like you're being chased by something. Unless you actually are, then by all means, haul your booty. But otherwise, take your time. Stop and look around at the incredible view you are given, reflect on how awesome you are for getting up this early to go on a hike, and take a few deep breaths because your heart is probably racing right now because you finally did some exercise.
4. Reward Yourself With Brunch!
You did it! You made it up and down the mountain! You took some great pictures for Instagram and Facebook so now what? Treat yourself! Go hit up your favorite brunch place and order everything on the menu; you did it, you deserve this.
As time goes on and you start to do more and more hikes, I'm sure it will get easier. But for now, stick to the easier trails. You got this.