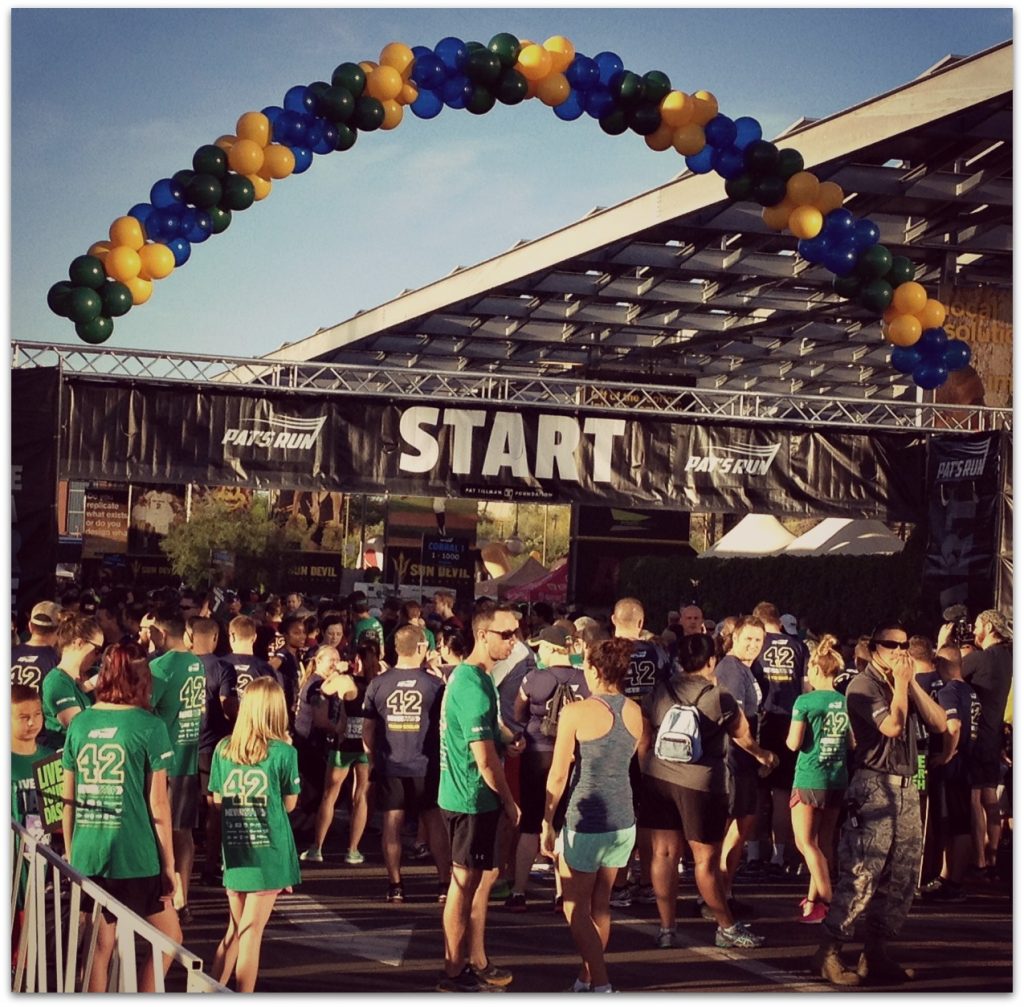 A beloved tradition in the Phoenix area is one that not only tugs on your heartstrings, but also unifies a community once a year to celebrate the life of a local hero Pat Tillman. It's almost unbelievable, how this Arizona State University star football player who also played professionally for the Arizona Cardinals, dropped everything to join the Army after the 9/11 attacks, but he did. It takes a bunch of hardcore guts to do what he did, and although we lost Pat, his courage and patriotism lives on among us.
Every year for the past 12 years Pat's Run has been the community's way to gather in remembrance in his honor. Everything about this race screams Pat Tillman. From the number of miles you run, 4.2, his football number at ASU, to being cheered on by members of the Arizona Cardinals, to finishing the run at Sun Devil Stadium on the 42 yard line, again all tying into Tillman pride.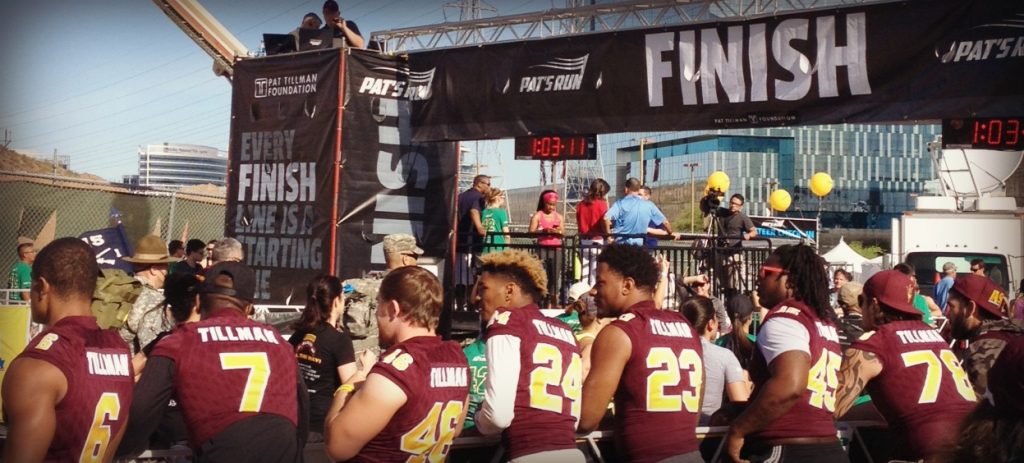 This year marks my fifth year as a participant in the run. I have never been a part of something so huge, and so powerful. And when I say this is a BIG deal in this city – IT IS! All the news networks are there interviewing everyone they can, and it's even televised. This year 35,000 people participated – 35,000 people – it still trips me out how huge this is. The vibe of 35,000 folks is unexplainable, you HAVE TO be a part of it to fully understand the magnitude of it all. Every year I participate it's a totally different experience. My first year participating, I was a crying wreck as I absorbed all the emotional energy in the place. I am telling you, when you hear our National Anthem played by a bugle, whoa, tear city all the way. As those tears flow down your face, you can't help but look around you and see, folks in their full fatigue's, folks in wheelchairs, runners with prospected legs, Veterans, folks with physical disabilities, all in who are there in honor of Tillman. This race is a must do. Put it on your bucket list, it's more than just a run; it's a community uniting to celebrate our fallen hero.

The course, I am not going to lie, is killer, but you dig deep, and get through it. The third year I participated, is etched in my memory. By the end of the race, I was winded, hot, thirsty, and over it, especially knowing I'd have to run up one more incline through the tunnel of the stadium before approaching the 42-yard line. I tried to suck it up and run it through, but that incline was on the hunt to stop me dead in my tracks. My legs were over it, I accepted it, and in the sluggish motion started slowing down to a frail walk. That was the moment I was giving up, or so I thought. Then out of nowhere, some complete stranger noticed my beat up tired body giving out on me, and she grabbed my hand and said, "no girl, you can't stop now, you are almost done!" Who the heck was this lady, and why did she even care if I finished running or not? I'm like, "who does this? Grabbing a strangers hand like that. Weird!" (But not so weird. If that makes sense.) I reached out and took her hand. She pulled me over that hated hump in the tunnel, and when I saw the light at the end of it, she turned to me and said "see, don't give up, you got this" and let go of my hand, so I could finish the final steps on my own. Wowza! I crossed that 42-yard line running rather than walking, because of her. THANK YOU! #neverstop.
Pat's Run occurs every year around the third week of April, so mark your calendars for next year, and take part of an amazing tradition in the valley.
For more information about the legacy of Pat Tillman and on how you can donate please check out the pattillmanfoudation.org.