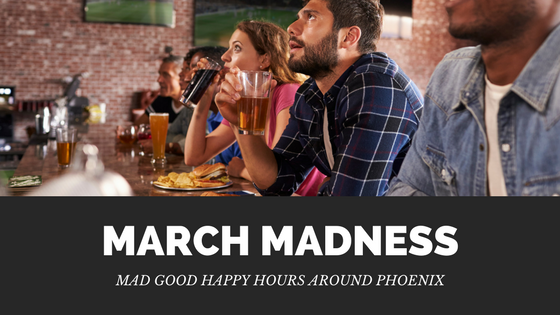 Your brackets are filled, your teams are picked and now it's time to sit back, relax and let the basketball teams do their jobs. Hopefully they all end in your favor. But where's a better place to watch these games than a sports bar? You've got beer, food, friends and of course, basketball. Here are six sports bars around Phoenix that are perfect for celebrating the winners and consoling the losers
Majerle's Sports Grill
Where: 24 N 2nd St, Phoenix, AZ 85004
What: What a better place to celebrate March Madness than at Majerle's? Founded by the AZ Suns owner, this place combines sports and bar food almost effortlessly. Their menu has something for everyone so no one will be disappointed, win or lose.
What to eat: The Gorilla wings! Their signature!
Half Moon Sports Grill
Where: 288 E Greenway Pkwy #103, Phoenix, AZ 85022
What: There's no shortage of tvs at Half Moon, which makes viewing games while eating some of their delicious American game day cuisine ( burgers, salads and sandwiches and more) super easy!
What to eat: The sizzling buffalo chicken dip!
Zipps Sports Grill
Where: 7551 E Camelback Rd, Scottsdale, AZ 85251
What: According to their website at Zipps, you'll find "more than just homemade food, cold drinks and great service. We also offer plenty of fun things to do with family and friends while hanging out at your neighborhood bar and grill!" Done and done!
What to eat: The corndog basket!
K O'Donnell's Sports Bar & Grill
Where: 14850 N Northsight Blvd, Scottsdale, AZ 85260
What: They've got fresh, quality ingredients, dishes that are made-from-scratch daily, 16 beers on tap, over 60 TV's and a staff willing to go the extra yard! AKA the perfect place for your March Madness excitement.
What to eat: During happy hour it's a $1 off of all beers PLUS cheap apps! Like $5 potato skins!
Ernie's
Where: 10443 N Scottsdale Rd, Scottsdale, AZ 85253
What: Sick of all the "regular" bar food? Then Ernie's is the place to be! They stay true to their Maryland roots with delicious seafood options, plus more! And of course, there's karaoke every night!
What to eat: The crab cakes! Duh!
Duke's Sports Bar and Grill
Where: 7607 E McDowell Rd, Scottsdale, AZ 85257
What: Apparently, Duke's Sports Bar has been Scottsdale's neighborhood hangout since 1998! So, we think they know what they're doing. They have a huge menu with something for every taste!
What to eat: Irish Nachos!
There you have it! Six bars for you to go to during March Madness that will console your losses and celebrate your wins. Plus, there'll be beer and food there so really, it's going to be an all around good month, no matter who wins or loses.