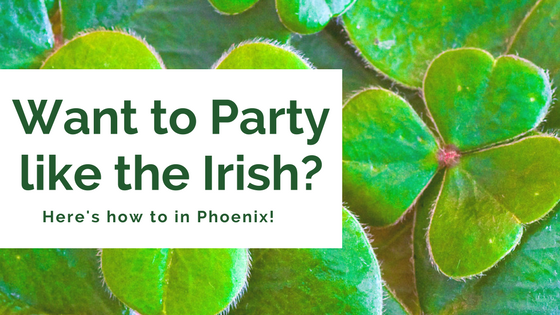 St. Patrick's Day is a day where everyone can pretend to be they're Irish. And even if you are Irish, it's a day that you can really be proud of it (as if we aren't already). Phoenix has tons of parties going on on Saturday, but we're highlight three that are close to our properties: The Place at El Prado, The Place at Loloma Vista, The Place at Wickertree and the Place at Santana Village.
Before we get into the parties, let's talk about the history of St. Patrick's Day around Phoenix. March 17th, is a day to celebrate Ireland and St. Patrick himself! There's an annual St. Patrick's Day Parade that celebrates the traditions of Ireland with Irish dancers, bagpipes, floats and of course plenty of food! The parade starts at Third Street at moves from Virginia St to McDowell. There's also the Irish Faire, which is a family friendly event that has all the fun the parade has, just interactive!
The AZ Irish Cultural Centre hosts a ton of fun and games during St. Patrick's Day! There's a night of Irish dancers, and even a raffle where you can win a trip to Ireland! Visit their website to find out more about the events as well as some history on St. Patrick's Day!
Now onto the fun stuff: the parties
Clancy's Pub:
Super close to The Place at Loloma Vista and a short drive from The Place at El Prado, Clancy's Pub is dedicating a whole weekend to celebrating St. Patrick's Day! Start the weekend off on Friday with live music, then come back bright and early at 6am for a complimentary green eggs and ham breakfast! There'll be green beer, shot specials and of course, more live music! Then on Sunday, recuperate by coming back for some great brunch specials.
Kiss Me I'm Irish Run
If you live at the Place at Wickertree, this run is a short 20 minutes away. Run off all that beer you'll be drinking later by participating in this annual event! There's a half marathon, 8k and 4k that you can walk or run and of course, it's family friendly! And then, after, celebrate finishing the race with some live music, food and drinks and much more fun! There will be so many other events happening after the race that this would be the perfect family activity!
Padre Murphy's
Close to the Place at Santana Village, Padre Murphy's will be going St. Patrick's Day green with live music, green drinks, and Irish fare! Make sure to get there early because doors open at 10am with corned beef and cabbage at the ready. Plus! It's kids friendly in the afternoon with plenty of entertainment for them.
Embrace your inner Irishman or Irishwoman on Saturday and celebrate the way the Irish do! Who knows? Maybe you'll find a pot o gold and a leprechaun. Have fun!