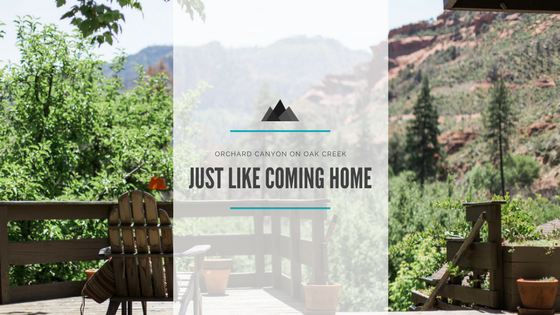 Oftentimes, when we go on vacation, we go to a hotel or resort and keep to ourselves. We come and go from the hotel to tourist destinations but we rarely interact with other guests. When you go to Orchard Canyon on Oak Creek Lodge in Sedona Arizona, it is like returning to a see an old friend or family member. For guests that have been coming to Orchard Canyon every season for the past thirty years, it really is like returning home. The staff is a family, and they welcome all guests with open arms.
In my very first visit to Orchard Canyon, I immediately felt the warmth and comfort cropped cherry trees of the lodge. The main lodge and kitchen is the original cabin that was built in the homesteader days. Throughout time, new cabins have been built and have expanded the capacity of the lodge. But the roots of sharing a meal with friends and guests over the kitchen table has never faded. You are connected to one another, and to history, when you visit Orchard Canyon on Oak Creek Lodge. Every day at 4pm afternoon tea and snacks are served in the lodge dining room. Guests gather round on comfy furniture and chat about what they have been doing since their last visit and share tales of yesteryear.
On a wall above the piano there are photos of Orchard Canyon staff, family and friends over the years. The history is living on the walls, in the furniture and in the stories told around the fireplace and dining tables. While snacking on amazing banana nut bread with maple butter and a piping cup of Earl Grey, I felt the relaxation begin to settle in. There isn't cell phone reception or wireless; there is a landline guests can make local calls on, but when you go to the lodge, you unplug. While that thought might terrify some, it is actually a treat to take a break from technology. You don' have to check emails, update social media, or send out texts. You are on vacation and going to Garland' means you are really going to enjoy vacation.
Cocktails are served to all guests at 6:00pm and the dinner bell rings at 7:00pm. Seating is assigned and guests are seated with one another. Conversation is encouraged and over a delicious four course meal, it is easy to smile and get to know the people at your table. The menu changes with seasonal fare and most of the produce comes directly from the grounds. The food is hearty, savory and delicious. After filling yourself to contentment, you can sit around the fire for a drink, borrow a board game from the cupboard, sit outside by the fire pit, star gaze or cuddle up in your cabin. The options are all cozy and relaxing.
Each cabin has its own character. Some have patios facing the creek while others face the orchard. All are unique, much like Orchard Canyon, and will make you feel right at home. Firewood is always stocked to keep you warm through those cold nights. In the morning, head over to lodge as early as 7:00am for coffee. Breakfast is served between 8:00am-10:00am and serves up a different menu each day.
Afterwards, you can tour the orchards and gardens. The orchardist and garden manager are always on site and will happily show you around or answer any questions. In the spring, the peach trees are blossoming in vibrant hues of pink and the greenhouse is sprouting up new vegetables. The ground is rich and alive at Orchard Canyon; you can feel nature in its pulse and in the fresh air you breathe.
Orchard Canyon is a rustic, elegant getaway. When you decide to go to Orchard Canyon you are choosing to unplug and relax. You will be away from the worries of everyday life. No emails to answer, no phones to ring, no Facebook updates – just you, your loved ones, delicious food, and the family you'll find in Orchard Canyon. Choose a vacation that you'll remember – choose Orchard Canyon on Oak Creek Lodge.
If you would like to book a trip or learn about availability, go to their website, or call: (928) 282-3343. Orchard Canyon on Oak Creek Lodge is located in Oak Creek Canyon, 8 miles north of Sedona, Arizona. Avoid the typical Sedona lodge or hotel stay and come to Orchard Canyon for a one of a kind experience.