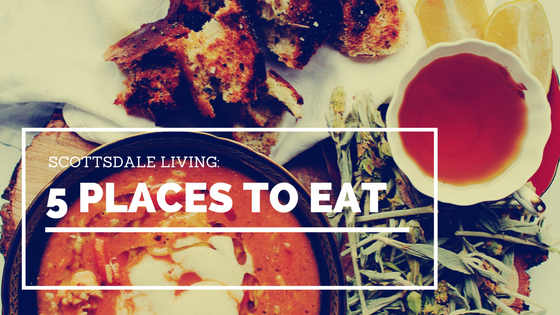 Here at MCLife we believe in sharing the good life and that means giving you the best places to eat, shop and play around our communities. We are going to be posting guides to each city with our favorite restaurants, shops, cafes, festivals, events and more. We want you to get the most out of living at our properties and part of that means giving you information so you can interact with the world around you.
If you haven't heard about our 5-5-5 program, let me tell you about it. 5-5-5 means we will give you the best 5 places to eat, shop and play all within 5 miles and 5 minutes of each our MCLIFE communities.  We will be giving you a guide to Scottsdale living. Today we are going to focus on 5 of our choices to dine out near our property, The Place at Loloma Vista. All of the choices picked in this blog are all under 5 miles and most are even in walking distance! So let's get started and tell you where we love to chow down!
Olive and Ivy
Where: 7135 E. Camelback Rd. Scottsdale AZ 85251
What: Marketplace by day, fine dining by night. Mediterranean inspired dishes
Why: From the espresso served during the morning at the market, to the luxurious weekend brunch, Olive & Ivy satisfies your taste buds. They have an incredible outdoor patio for dining in the sunshine or in the moonlight. Check out their happy hour from 3pm-6pm, Monday-Friday, in the bar and lounge.
Must Try: Red Sangria at dinner; cinnamon French toast at Brunch; lamb meatballs at happy hour; grilled asparagus bruschetta.
Bandera:
Where: 3821 N. Scottsdale Rd. Scottsdale, AZ 85251
What: American comfort food
Why: see above – "American comfort food" – large portions, hearty meals and amazing flavors! Where else can you get authentic Carolina style BBQ beef ribs in Arizona?
Must Try: signature rotisserie chicken, the tasty Macho salad for the guest looking to get their veggies and of course, banana cream pie for desert! Yum!
Farm and Craft:
Where: 4302 N Scottsdale Rd, Scottsdale, AZ 85251
What:

 

A healthy place for breakfast, lunch or dinner!
Why: If you're looking for a healthy option, try Farm and Craft the next time you're out! There's plenty of gluten free options and options for those with dietary restrictions!
Must Try: The breakfast sandwich and the mac and cheese!
The Mission
Where: 3815 N Brown Ave, Scottsdale, AZ 85251
What: Mexican food
Why: Self described as "Chic, dimly lit restaurant & lounge serving modern, upscale Latin cuisine & craft cocktails." this place is a great idea for a first date or a casual night out!
Must Try: The tacos! And of course the pumpkin bread pudding.
Salty Senorita
Where: 3748 N. Scottsdale Rd. Scottsdale, AZ 85251
What: modern cantina with a relaxed feel and great Mexican food
Why: There's happy hour 7 days a week from 3pm-7pm with specials on food and drinks. Pacificos are only $2.99 every night from 8pm-close. They've also got weekend brunch, lunch specials and a kids menu.
Must Try: Sweet Jalapeno Tacos and the Shrimp Shack Tacos are some of our favorites. If you go for brunch get the Hangover Plate or the Sunrise Torta. We're also crazy about Chicken Tinga Burrito Bowl. The cucumber watermelon margarita will wash your meal down perfectly.
There you have it! Those are our top 5 picks for dining out in Scottsdale! Remember: they're all under a mile from The Place at Loloma Vista so you can easily walk on over for happy hour after work, or take a bike ride for weekend brunch!