Summers in Phoenix are hot! Cool down with Stand Up Paddle Board classes from REI. Give it a chance, it's a fun way to get some exercise, have some fun, and learn something new. During these hot summers we have to find ways to cool down! Paddle boarding classes with REI cover all the bases!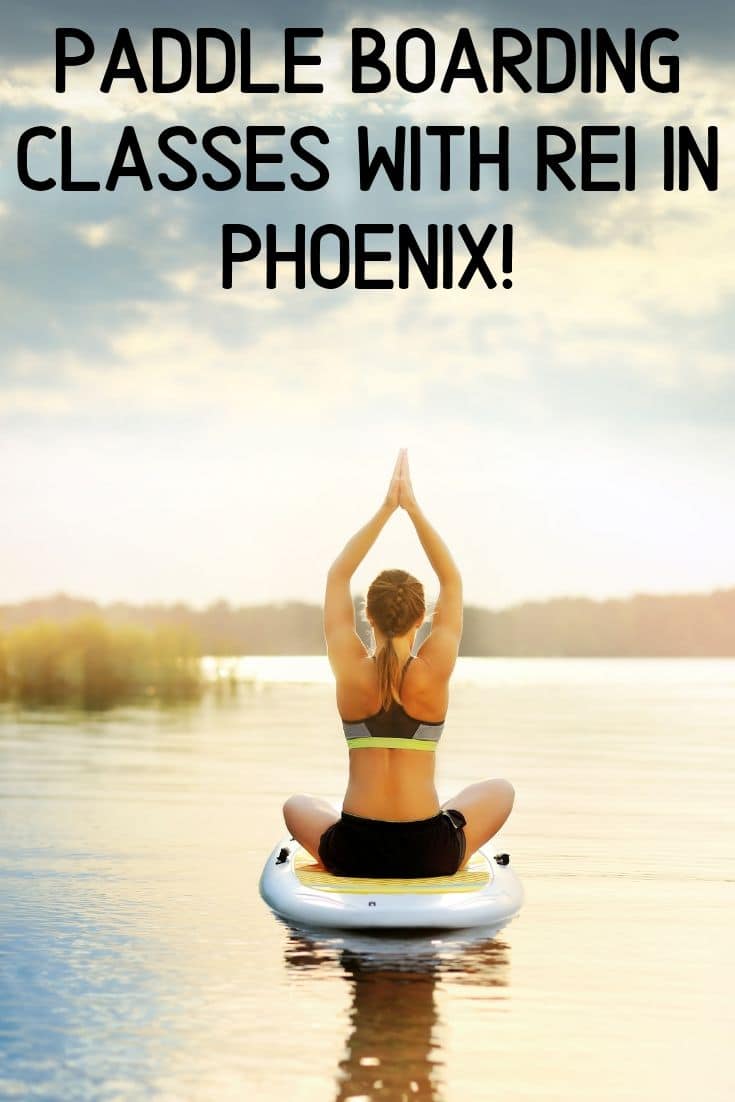 Paddle Boarding Classes With REI | Phoenix Events
Paddle boarding classes with REI are a great opportunity to try something new. If you've never been paddle boarding you don't have to feel shy, they can help anyone from beginners to pros have some fun on the water and beat the heat.
All of the classes can be handled by beginners. They're an easy active level 2 class which means that you can total handle the activity level required to make it all work!
Each class has a designated number of spots so make sure you click above and sign up now! All the classes have spots left as of right now!
When are the Stand Up Paddle Boarding Classes with REI?
The first class is coming up fast. Then there are some in August, September, and October. Here's a rundown of the classes, dates, and times.
July
August 
3rd | 9:30 am – 11:30 am
10th | 9:30 am – 11:30 am
17th | 1 pm – 3 pm
31st  | 10 am – 12 pm
September
8th | 10 am – 12 pm
21st | 10 am – 12 pm
October 
Where are the classes being held?
Each class takes place in the same location so you won't have to be traveling all around or getting confused. Before each class you'll meet at the 4 Lane Boat Ramp/Fireman's Cove at Lake Pleasant Regional Park. The address is Lake Pleasant Regional Park, Castle Creek Dr, Morristown, AZ 85342. For those of you familiar with our MCLife Communities in Phoenix The Place at Sonoran Trails is local! It's a great option for pet friendly apartments in Phoenix and as you can see it's nearby to some great activities and adventure!
What do I need to bring to class?
According to the gear list on the website this is what you'll need:
Bring to class:
(Required)
2 Liters of Water – At least two one-liter water bottles, such as a Nalgene bottle, or a large hydration bladder.
Energy Snacks
Sun Protection – Lip balm, sunscreen, wide-brim hats, etc.
Synthetic Quick Dry Clothing
Water Shoes/Sandals – Foot attire that will protect your feet and is okay to get wet. (e.g. Teva, Chaco, Keen (not flip-flops)
(Optional)
Change of clothes
Personal Camera
Swimwear – Be prepared to get wet!
Provided by REI:
Dry Bag
Group First Aid Kit
Lifejacket
Paddle
SUP – Stand Up Paddle Board
What will I learn in these classes?
Here's what you can expect to learn from your stand up paddle boarding classes with REI instructors. All info below provided from the class info site linked above and right here. When it comes to Phoenix events you won't want to miss out on such a fun way to beat the heat.
Basic on-the-water instruction
Further understanding of Stand Up Paddle boarding
Experience paddling at an exclusive location
Learn about Lake Pleasant and other paddling destinations
What is the cost of the classes?
Classes cost $59 each but members get a discount so make sure you look into that if you plan on taking more than one class it could be well worth your time and money to become a member!