Here at MCLife, We Love Pets, and we want you to share the good life with your four legged friends.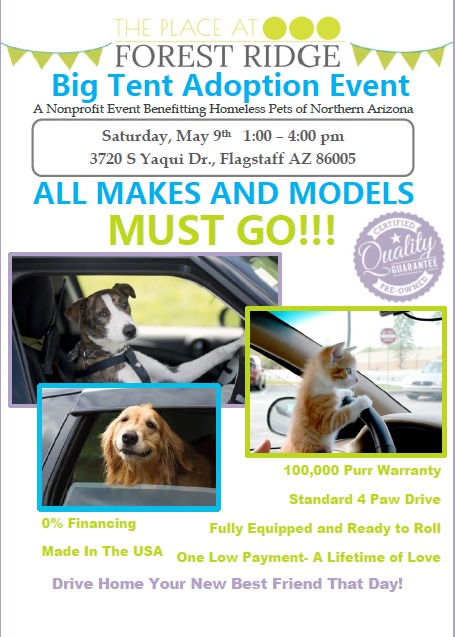 That is why we are expanding our pet and community outreach programs. At our property in Flagstaff, Forest Ridge Apartments, property manager Amanda Maestas has been working hard to get involved with the community of Flagstaff while helping our furry friends.
"We've always been very pet friendly," Amanda explained. "Flagstaff as a community is a really pet friendly community so it doesn't really make sense why apartments restrict pets when the town itself is so about pets. Every year we have done pet adoption events and this is our 4th annual pet adoption event."
On May 9, 2015 three adoption agencies: Coconino Humane Association, Humane Society of Sedona and High Country Humane will bringing cats and dogs for a pet adoption event in Flagstaff. "We get local shops in town (kennels, pet groomers, pet stores) and ask for donations to make raffles. We also get local radio stations involved to get promotion and ads on the radio. The radio stations provide pizza and drinks to get people out here and they do a prize wheel. We're doing the same thing this year but we are making it even bigger. We are having our own barbecue along with the radio station, as well as an open house for residents to tour."
People that come to the event are encouraged to adopt a friend of their own. "We give discounts on pet fees to residents who adopt that day since they are saving a life. We give them 1/2 off their nonrefundable pet fee which is a $150 discount. But we only do it for the event."
Amanda and everyone involved with the pet adoption event work on pulling it together for months. "We are really trying to make it a full community event. We started planning in January. We work on it for three or four months to build relationships with people throughout town and make sure all of our ducks are in a row."
Bring your family and friends out to this fun community event. Help an animal in need and adopt a furry little friend on Saturday May 9, 2015. All are welcome and invited to attend!
If you have questions or want more information you can call Forest Ridge Apartments at 928-774-1431 or send an email to forest@mccompanies.com