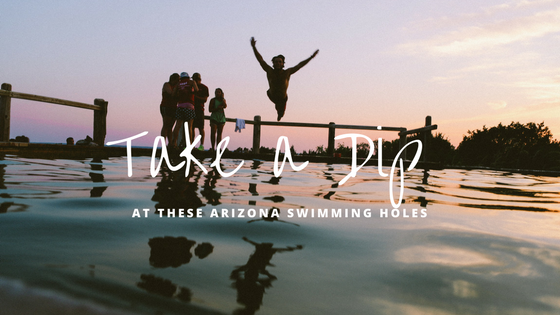 It's summer in Arizona which means it's H O T. Luckily, we found some swimming holes that are perfect to cool off in. Plus they're in the state so it won't be super expensive — just a nice little day trip!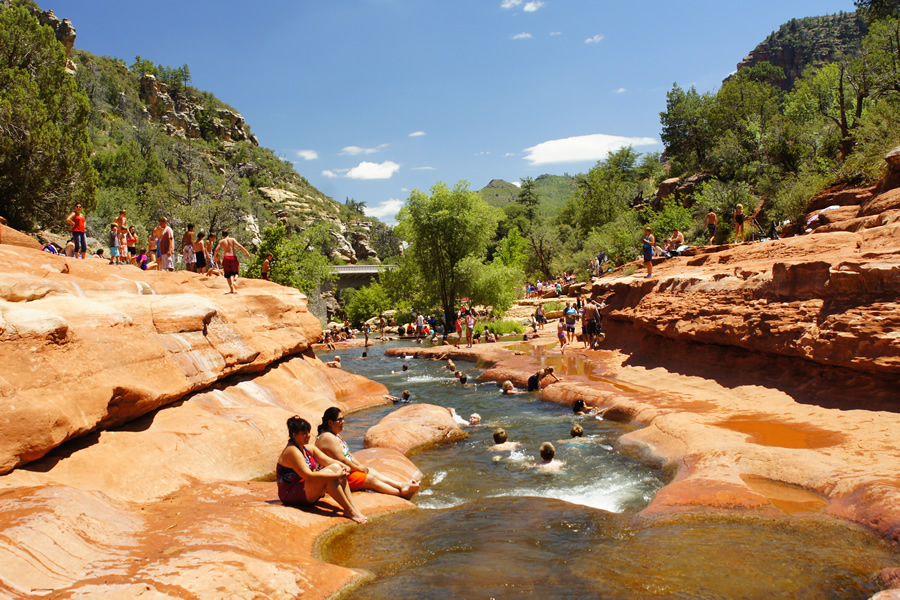 (via ArizonaSwimmingHoles)
1. Slide Rock:
Where: Sedona
How Much: $20 memorial Weekend to Labor Day Weekend, $10 all other dates, $3 Bicycle or individual
Perks: Restroom, Parking Area, Store
Dog friendly: No.
The most popular swimming hole in Arizona, Slide Rock is fun for everyone! Slide down the chute and drop into a nice, not too deep pool. Walk down a few paces and find the perfect place to do a little cliff jumping! To get the good spots along the edge of the hole, make sure you get there early! There's a few prime spots for shade and perfect for lounging about. This will be a day full of fun for all.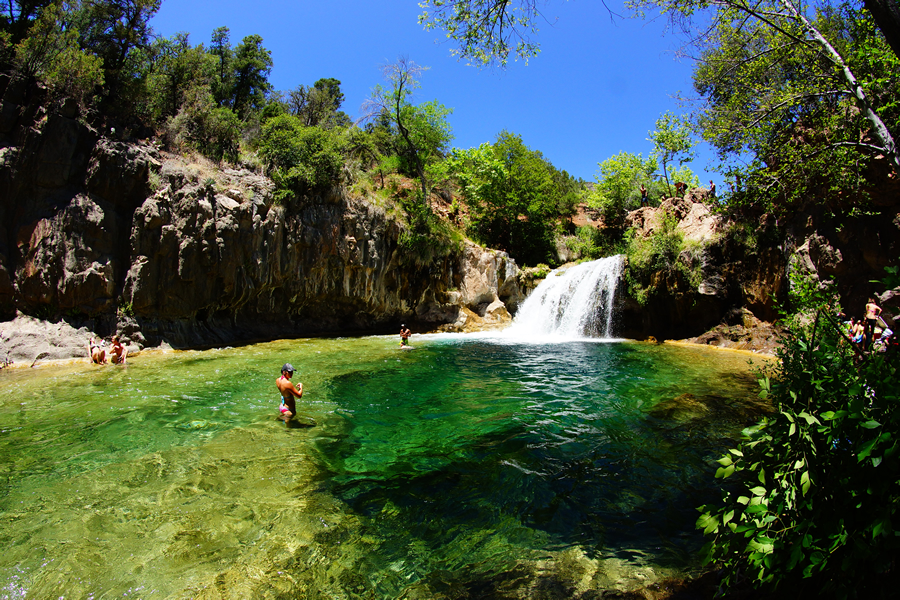 2. Bull Pen:
Where: Camp Verde
How Much: Free!
Perks: Restrooms, Parking
Dog friendly: Yes, on Leash
Although a little hiking is required to get to this swimming hole, the walk is well worth it. The pool has an almost perfect cliff diving rock formation on the far side of the creek that peaks out at about 20 to 25 feet. But if you don't want to jump that high, there are several jumping points ranging from just a couple feet to 8 or 9 feet then up to 15 feet.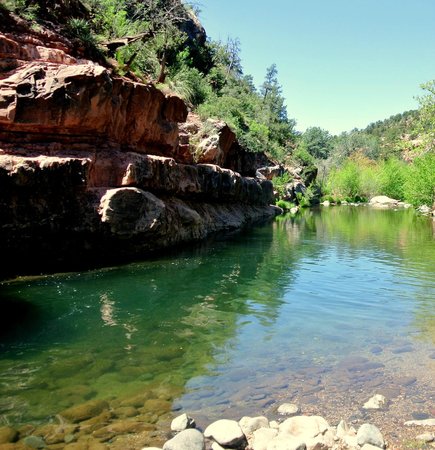 3. Grasshopper Point:
Where: Sedona
How Much: $8 per car
Perks: Restroom, Parking Area, Covered Ramada
Dog friendly: No
Not as popular, but it still fills up pretty quickly! This swimming hole has a cliff jumping area along with nicely shaded places to relax. But make sure to get there early to get those prime parking spots!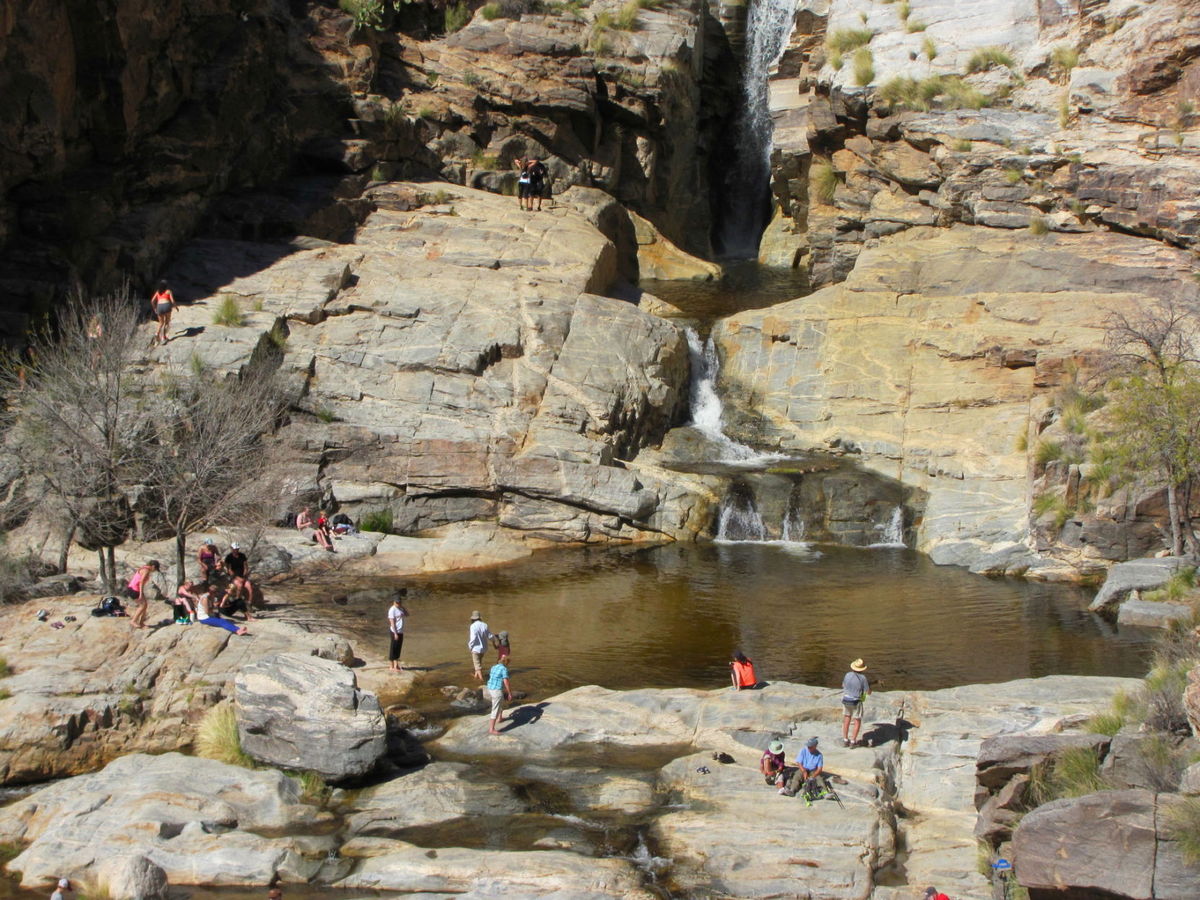 4. Seven Falls:
Where: Tucson
How Much: $5 shuttle fee
Perks: Restroom, Parking Area, Shuttle to trailhead
Dog friendly: Yes, on a leash
Just outside of Tucson, to get this swimming hole is an 8 mile round-trip hike in and out. But the trail is well marked and there's a map you can buy if you want! Feel free to take a refreshing dip in the cool pools. Seven Falls does go dry in the hot summer months, so call ahead of time to the Santa Catalina Ranger District to see if water is flowing before you go. You can reach them at 520-749-8700.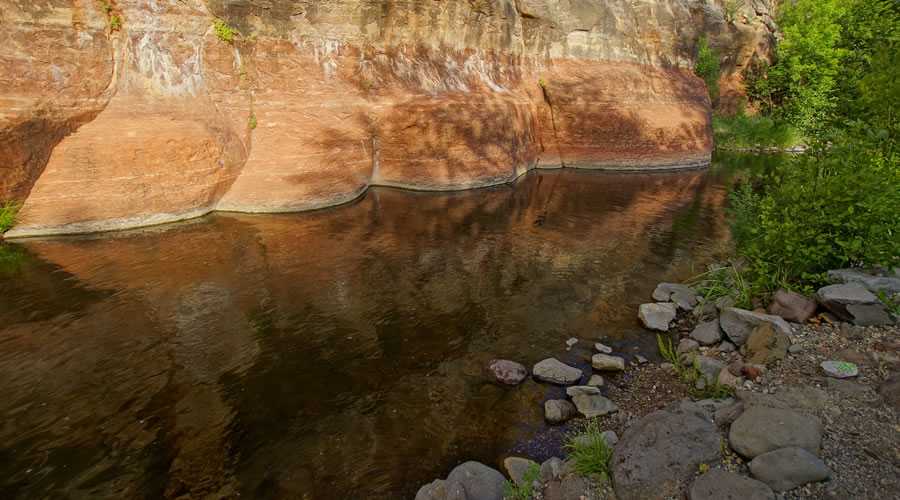 5. Encinoso
:
Where: Sedona
How Much: None ( But a Red Parks Pass is required to park along the creek)
Perks: Restroom, Grills, Picnic Tables, Drinking Water, 12 Day Use Sites
Dog friendly: Yes
When Sliding Rock and Grasshopper Point are full, head over to Encinoso! This swimming hole is picture perfect in every way; it has beautiful scenery, Red Rocks cliffs, a shallow (but deep enough for swimming) swimming hole.
Make sure you check out these swimming holes! If you know of any other secret ones, don't hesitate to let us know!