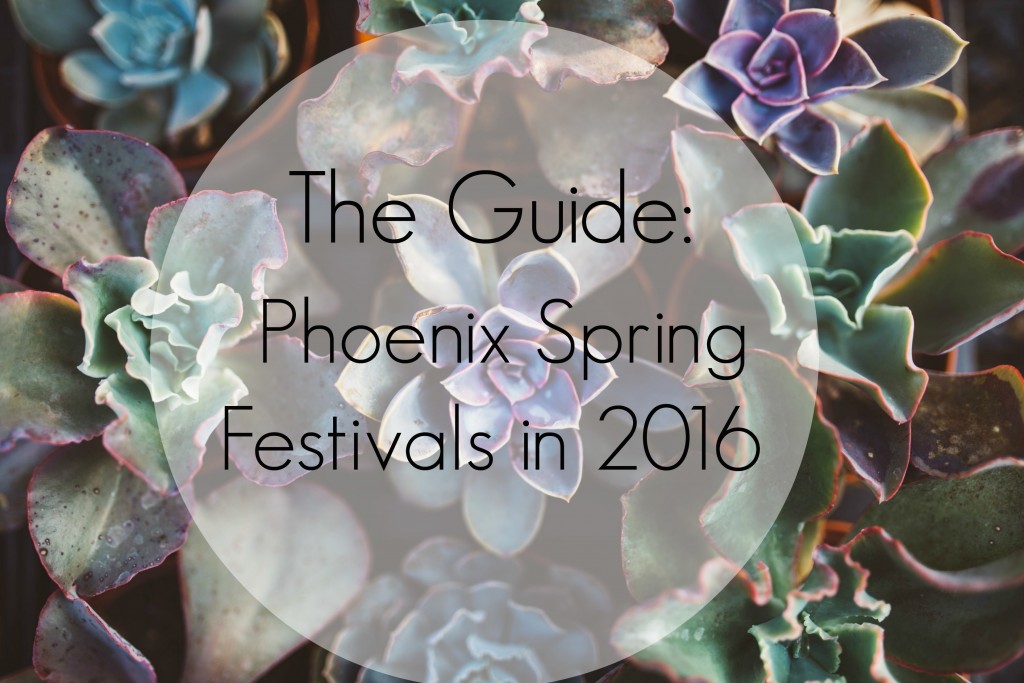 In the Springtime, Phoenix and the surrounding communities come to life with various festivals and events. A lot of festivals are just around the corner so we are bringing you The Guide: Phoenix Spring Festivals in 2016. Whether you are after foodie events, live music, family friendly activities or a way to spend a weekend, we have you covered.
March Festivals and Events:

When: March 5 – 6, 2016
Where: Phoenix Art Museum
Admission: $99 for one-day general admission
What: Head over to Phoenix Art Museum for two days of culinary delight and excellence. The Devoured Culinary Classic brings together metro Phoenix's top restaurants and chefs for an event that will bring your taste buds to life. Participating restaurants include: Barrio Café, Binkley's, The Clever Koi, Citizen Public House, and Hana Japanese Eatery. There will also be beers, wines and spirits available in the museum's outdoor garden; dessert from local bakeries and confectioners; and the new Local Foods Marketplace, where attendees can browse, sample and buy products from local food artisans.
When: March 5 – 6, 2016
Where: Steele Indian School Park
Admission: $15 for general admission
What: Salsa lovers cannot miss the 32nd Annual My Nana's Best Tasting Salsa Challenge at Steele Indian School Park. There will be more than 100 freshly made salsas entered in a competition that pits chefs and home cooks against one another. Vote on your favorite salsas, and enjoy all you can eat chips and salsa with your admission ticket. There will also be a Margarita Mix-Off, a cornhole tournament and live music. Fun for the whole family!
When: March 12 – 13, 2016
Where: Tempe Beach Park
Admission: FREE!
What: Get a taste of the islands at Tempe Beach Park during the Arizona Aloha Festival. You'll experience the food, culture, sights and sounds of the Polynesian islands at this festival. There will be live music, dance performances, vendors and plenty of food. Enjoy dishes like Malasadas, which are yummy Portugese donuts; sample island-style noodles and more! There will be plenty of Hawaiian and Polynesian fare there for you to enjoy! Take the whole family out for this festival.
When: March 18 – 21, 2016
Where: Mesa Arts Center
Admission: FREE!
What: The whole family is welcome to come out to Spark! Mesa's Festival of Creativity which features both local Arizona and international artists' creative, and innovative works of art. There will be performances and activities focusing on the elements: fire, earth, water and air. This four-day festival welcomes guests to design cityscapes, walk through a migrating flock of birds, and play music using sculpted sea creatures. It is a wild, fun, creative time!
When: March 19, 2016
Where: Downtown Chandler
Admission: $10 at local Bashas stores, $12 in advance online
What: Head to Downtown Chandler for the Great American BBQ & Beer Festival for an event that brings dozens of pit masters to the Valley. There will be more kinds of barbecued meat than your belly can handle! There will also be craft beer and spirits available for your enjoyment! Plus, there is going to be a March Madness lounge so you don't have to miss any great moments of basketball. Live musical performances will also happen throughout the day and night.
Check, Please! Arizona Festival
When: March 20, 2016
Where: Margaret T. Hance Park, Phoenix
Admission: $59 in advance, $69 at the door
What: Ever heard of Arizona PBS' Emmy Award-winning show Check, Please!? The TV show comes to life at the Check, Please! Arizona Festival, which features dozens of local restaurants, plus appearances from local and national celebrity chefs. James Beard Award-winning chef Robert McGrath is making an appearance this year, along with Lidia Bastianich, the star of the popular TV series: Lidia's Kitchen. Tickets to all festival events include food, wine and beer samples.
When: March 19 -20, 2016
Where: Scottsdale Waterfront
Admission: $10
What: This delicious two-day celebration of Italian culture, food, music, arts and fashion promises to be fun for the whole family! Head to Scottsdale for the Italian Festival to enjoy music and Italian craft vendors, plus wine tastings and authentic Italian cuisine! 
When: March 22, 2016
Where: Phoenix Center for the Arts
Admission: FREE!
What: Come celebrate all things Spanish at Phoenix Festival de España! There will be live performances, art exhibits, food, workshops and Spanish culture presentations. Local and national Spanish historicans will present lectures about Spanish culture and history. Plus, Flamenco Por La Vida will be offering flamenco workshops throughout the day. To wrap up the evening, "Noche de Flamenco" will be performing from 7:00pm – 9:00pm in the Third Streat Theater. The festival is free; but tickets for "Noche de Flamenco" are $15 (or pay what you can!)
When: March 26 – April 2, 2016
Where: Harkins Scottsdale 101
Admission: $13-$300
What: Even though the Oscars and Awards Season has ended, the film world is still alive and moving! The Phoenix Film Festival will screen over 150 films over eight days so there are plenty of genres and options for you to find films you enjoy. There will also be workshops and parties throughout the festival to keep you busy between films. Tickets range from $13 for individual screenings, to $300 for the platinum pass. You can view the schedule online and purchase tickets now!
April Festivals and Events:

When: April 1 – 3, 2016
Where: Downtown Mesa
Admission: FREE!
What: CycloMesa takes place April 1 -3, 2016 and is a three-day bicycling extravaganza, with El Tour de Mesa as the centerpiece event. The other two major events are the El Tour Criterium State Championship and the Arizona Bicycling Summit. Plus, there will be a beer garden, live music and a food truck alley for visitors to enjoy. MCLife is a sponsor of El Tour de Mesa and we can't wait! Plus the event gives back to many non-profit groups including: Phoenix Children's Hospital, Uphill Into The Wind, The National MS Society AZ Chapter, The Winded Foundation, Marc Community Resources and ALS. 
When:  April 8-10, 2016
Where: Mill Avenue District in Tempe
Admission: FREE!
What: The Tempe Festival of the Arts is one of the largest and most anticipated celebrations of arts in Arizona. There are nearly 400 artists booths, and hundreds of thousands of attendees that come to Tempe for the weekend. The booths are open from 10:00am – 5:30pm. This is a family friendly event – all are welcome!
When: April 11 – 12, 2016
Where: Steele Indian School Park
Admission: Single Day Tickets – $20; Alcohol Tickets – $6 each
What: Phoenix Pride Festival has been bringing Phoenix's LGBTQ community together, while educating the public, for over 30 years. There will be a ton of entertainment and activities! Check out four stages, beer and wine tasting, KidSpace, an arts expo, and Erotic World. There will plenty to see and do to keep guests of all ages entertained.
When: April 9-10, 2016
Where: Our Lady of Częstochowa Parish
Admission: Free!
What: Celebrate Polish culture at the Polish Festival this April. There will be fun for the whole family with a "Can You Polka?" dance competition, plenty of Polish music, a folk fashion show, several pierogi-eating challenges and much more. It is a family friendly event that will have you experiencing the sights, sounds and tastes of Polish Culture.
---
These are some of the incredible Spring Festivals happening around Phoenix. What events are you most excited for? We will be adding more events as they are announced so stay tuned to the blog to stay up to date on things happening around the valley! Subscribe to our newsletter to have the latest in eat, shop and play, sent right to your inbox.