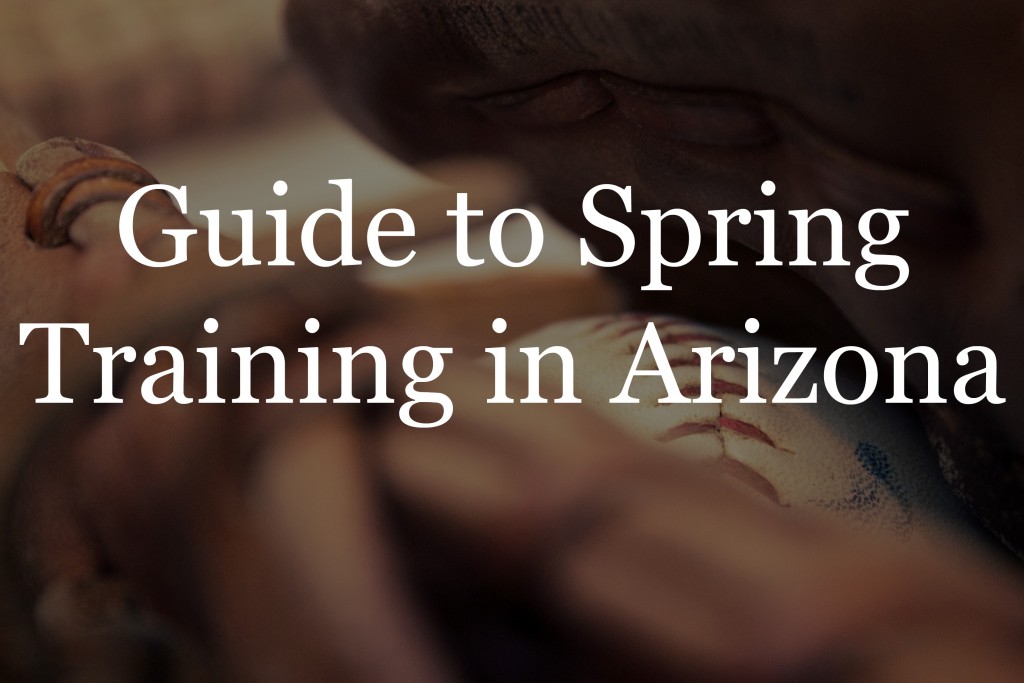 It's March, so that can only mean one thing, its time for Spring Training.  This time of year, thousands of people flock to the desert to enjoy Spring Training in Arizona. If looking for a fun and exciting vacation for you  and/or the family, a visit to Arizona to enjoy the sunshine and some Cactus League Baseball, cannot be beat. If heading to the Valley of the Sun, there are 15 teams to potentially see, and almost as many unique stadiums to visit! A game plan and guide is essential in order to get the most out of a visit to Spring Training in Arizona.
Before embarking on your Arizona Spring Training adventure, having some idea of the schedule is a must. With 15 teams, and almost as many stadiums it is nearly impossible to see everyone, so prioritizing is essential. Being aware of which teams share a stadium (The Diamondbacks and The Rockies, for example), and which teams play in close proximity (The Cubs and The A's), will greatly aide one's ability to see as many games as possible. Beyond that a cursory idea of the schedule as well as the layout of the Phoenix Metropolitan Area is important as it almost impossible to see the A's in Mesa and Mariners in Glendale in the same day. Consider the vast distance between parks and traffic times around Phoenix. Now that those small formalities are out of the way one can begin to look at the teams/venues themselves and examine some best bets.
Best View
While not everyone's cup of tea, Arizona is known for stunning desert vistas. What better way to spend a day than watching some baseball and looking out over the vast desert landscape?  The Angels play at Tempe Diablo Stadium, which is known for it's great views and is surrounded by burnt orange buttes. Located just minutes away from Sky Harbor Airport, Tempe Diablo is located adjacent to the Phoenix Marriott Tempe at The Buttes, one of the finest resort hotels in the desert southwest.
Best Way to Kill An Afternoon
Whether you are a businessman looking to play hooky from work, or in town for a family vacation and want to take in a day game with the kids, there is no better venue than Scottsdale Stadium home of the San Francisco Giants. While Barry Bonds is no longer launching blasts out the park, the Stadium features a grass area in the outfield to soak up some rays (remember the desert heat is intense so bring some SPF 50), but also overhangs and bleacher seats for the kids. Additionally located in the heart of Scottsdale, Scottsdale Stadium is adjacent to the shops and restaurants of Old Towne, plus the AIR CONDITIONED Fashion Square Mall.
Newest Venues
A rare tie, both the Salt River Fields (home of the Rockies and Diamondbacks), and Sloan Park (home of the Cubs) have opened in the last several years to rave reviews. If looking to watch a quality game with some of the best sight lines in all of Spring Training, one can do far worse than hitting up either of these modern venues.
Best Place to get an Autograph
While it lacks the amenities and views of many of the other parks, Hohokam Park in Mesa home to the Oakland Athletics provides easy access to players and the opportunity for the kids (or the kid at heart) to interact with and meet their favorite players. Additionally, the stadium has been somewhat renovated recently and features one of the best HD Video boards in all of Spring Training.
Additional Tips
The aforementioned list provides some hot spots to hit while in Arizona from Spring Training. Generally speaking, at any Spring Training Venue, one would be wise to do the following:
Rent a Car: Public Transportation is spotty and Phoenix so if you're an out of town visitor it is a good idea to rent a car. If your hotel offers shuttles to and from spring training games, find out if yours offers that service.
Bring Cash– Between parking, tickets, and food, Spring Training can be expensive. You can't use a credit card for everything so having cash on hand is a good way to go.
Have Fun! – A given.
Rest assured if one follows ALL, or at least most of the aforementioned tips, an amazing Spring Training experience is guaranteed! What do you think? What are your favorite things about Spring training? Let us know in the comment section below? Let us know in the comment section below. Gotta love spring training in Arizona! Stay tuned to our blog for all things eat, shop and play around Phoenix.
This blog post was written by a contributing writer.