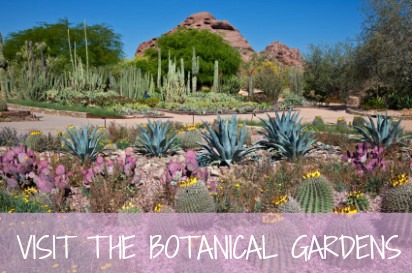 The last time I visit Arizona was about fifteen years ago with my family. We stayed in Scottsdale, since it was so close to everything. Since it was fifteen years ago, I don't remember much, but can you blame me? Though I don't remember much—can you blame me? It was fifteen years ago. I do remember visiting the Desert Botanical Garden with my dad at night to see the light up cacti and catching a little gecko.
So of course, when my dad came to visit, we had to go to the Desert Botanical Garden once more. But this time, I didn't catch a little gecko.
There's something about the Botanical Garden that just truly immerses you in the desert scenery. There are four different trails you can walk. Each trail has a bunch of little trails within them that give you a chance to see some butterflies or even learn a little history about the Botanical Garden.
One of my favorite things about the last time we visited the Botanical Garden was when they lit up the cacti. This was around Christmas time so it was perfect weather and made the trip a little more special. According to the website, they also light up the cacti every night until the beginning. Unfortunately, we missed the event dates by one weekend. It was a bummer, but we still enjoyed ourselves.
While we were roaming the Garden, there was a concert going on so we got to listen to some smooth jazz as we walked around the trails. This was one of the Garden's summer concert series. Each week there's a new concert whether it be jazz or classical music. You can find all of the event dates and details right here.
Go around dusk when you visit the Garden. This is probably the best time to go because, simply put, it's a little cooler than it would be in the day time. Plus, there's not a lot of people there since it's around dinner time. We were able to stop and smell the cacti. Okay, maybe not smell, but you get my drift.
My dad and I spent a good amount of time in the Botanical Garden spotting hummingbirds and butterflies while also making jokes about how oddly the cacti seemed to grow around bushes and other plants already there. Some of the weirdest looking cacti included the hedgehog cacti and the small, little ones that grew under bushes because it was protection from the sun.
The Desert Botanical Garden is an adventure that everyone can enjoy, from children to adults. It's something that you can come back to over and over again and there will be something different or new to admire because that's just how nature works. It's incredible and I'm glad I got to spend it with my dad.
Still bitter I didn't catch a little gecko though.