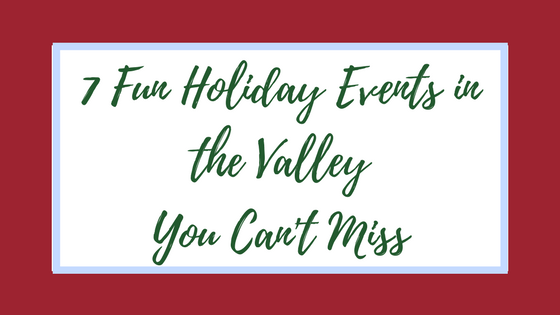 Get in the holiday spirit with these fun holiday events that you can't miss! There are light shows and attractions that prove this time of year is the best time of year. Read on for more!
1. Christmas at the Princess
This annual holiday celebration expands over SIX WEEKS and features a holiday tree lighting ceremony, a four-story musical tree, a desert ice skating rink (open to the public nightly), 2.8 million LED lights illuminating the resort's lagoons, the Princess Express train, magical snowfalls, a Christmas petting zoo, appearances from holiday characters, nightly visits from St. Nick himself, and many other featured events.
2. "A Winnie the Pooh Christmas Tail"
This 20 year tradition is a great holiday event for Phoenix families. A production of the Valley Youth Theatre, the play is all about friendship and loyalty. Kids will love seeing their favorite pals from the 100 Acre Wood: Christopher Robin, Piglet, Pooh, Rabbit, Tigger, Owl, Kanga and Roo and other woodland creatures as they search for Eeyore's lost tail. Be sure to get your tickets today!
3. Handel's Messiah
An annual Christmas tradition around the world, the Phoenix Symphony and the Phoenix Symphony Chorus are teaming up to put a wowing holiday concert. Listening to your favorite holiday sounds is the best way to get into the holiday spirit. Be sure to check for specific times and venues, as the schedule changes every year.
4. The Nutcracker
It isn't the holiday season without a performance of The Nutcracker. Ballet Arizona puts on a beautiful show that features top-notch costume and set design, paired with a beautiful score performed by The Phoenix Symphony. The classic holiday ballet tells the story of young Clara and her magical Nutcracker Prince. Make sure you don't miss one of the country's best-reviewed holiday productions of The Nutcracker.
5. CitySkate
We might not get a lot of snow in the Valley, but we can still enjoy all the winter fun! At the annual CitySkate at CityScape Phoenix event, which arrives in downtown Phoenix every year in December. Guests can rent ice skates and take a spin around the rink, snack on holiday treats like cookies and hot cocoa, enjoy the twinkling lights, and listen to the sweet sounds of holiday carolers – all in the heart of downtown Phoenix.
6. Las Noches De Las Luminarias
The holidays are the most beautiful time to visit the Desert Botanical Gardens. During their winter event, the trails glow with candlelight. There's over 7,000 luminaries, creating an otherworldly spectacle that draws sell-out crowds. Live music is played throughout the night, along with gourmet bites or you can even have a holiday themed meal in their garden.
7. The Holiday Pet Festival
A unique holiday event that takes place at the WestWorld event center every December in Scottsdale, this is the largest holiday pet event in Arizona! It's a fun filled day of holiday shopping for pets and people alike. You can bring your furry friend so they can pick out their new gifts and even enjoy the entertainment like a dog fashion show, talent contest or even a picture with Santa!
Enjoy all that the Valley has to offer this holiday season!