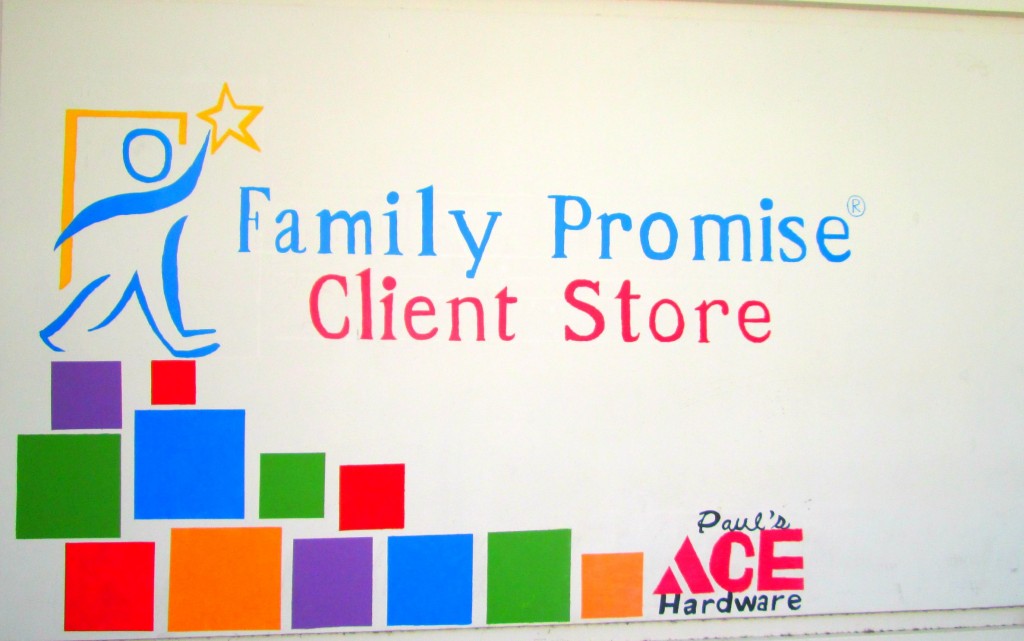 Right now, there are 4,300 struggling homeless families out on the streets in the Greater Phoenix Area.  One non-profit organization, Family Promise of Greater Phoenix, has saved 500,000 of these families in need since they were founded 27 years ago. Through an incredible network of partners, and volunteers, Family Promise is able to rescue 100 families in Phoenix per year. Armed with a mission "to reduce homelessness in Greater Phoenix by helping homeless families attain self-sufficiency," Family Promise is able to make a tremendous impact.
For many years, the organization only had one storage closet at their day center. This limited the amount of donations they could take and forced them to turn donations away. When Family Promise received $13,000 in gift cards and items from Safeway, Morgan had no idea what to do with it all. But then, perhaps by fate, Paul's Ace Hardware, a longtime supporter of Family Promise, called Morgan Taylor the Development Director and offered up a space.
"When I got the call, I was given plenty of warning that the Paul's Ace Hardware warehouse was in rough shape. It didn't have any bathrooms, the water main had been stolen, old air conditioning units had leaked and damaged the roof and all of the carpets. It was a massive space in really rough shape but it had a lot of potential."
When Ted Taylor, President of Family Promise, Morgan Taylor and four other women came to check out the space, they began to realize how much work the warehouse would require. But then the kindness of others intervened again.
"I received a call from DaVita Healthcare Partners asking if I had a project for 200 top executives and CEO's. My response was to ask how dirty they wanted to get," Morgan Taylor explains with a wide smile. "Due to schedule limitations, we only had 2 ½ hours to renovate the space. There were 200 people in here ripping out carpets, painting, reinstalling a water main and adding bathrooms. It was truly incredible seeing how everyone worked together to get this space put together. We now have 5,000 square feet of rooms and spaces that are now used to sustain the Client Store and After Care program."
When you enter the client store, you are greeted by brightly painted murals and ornate paper butterflies that wrap and weave down every hallway and wall. First and foremost, the space is used to store all donations. Volunteers come in and sort items by size and category. The building has no air conditioning units, so volunteers are few and far between in the summer and have to come early in the morning.

There are rooms for clothing, linens, children's toys, books, housewares, personal hygiene items and more. Everything is sorted for men, women and children by size and has a price tag. While money is not exchanged, participants in the After Care Program are given vouchers to purchase items from the client store.
"When these families graduate the 60 day program, they don't have anything. So the client store is a great way for them to get items they need like dishes, and clothing while still teaching them financial stability and allowing them to provide for their families," Morgan Taylor explains as she walks us through the facility and shows us each room.
"We have created the vouchers to encourage our families to stay active and regularly participate in the After Care Program. When participants attend their financial classes, go to counselling sessions and stay in touch with us, they are rewarded through the voucher system."
The After Care program is an extension of the initial 60 Day Program that Family Promise offers. It contributes to the overall mission of Family Promise to help homeless families attain self-sufficiency.
"While the 60 day program helps these family regain strength and get onto their feet, everything cannot be fixed. The After Care Program is our way of providing additional support to these families. We have volunteers teaching financial literacy classes, and we offer them to the children as well so that they can learn at a young age about saving and finances. We have classes that help our parents learn how to manage debt, how to be good tenants and how to be good employees. Our goal is to give them the tools to succeed and enable them to keep on a positive path."
While one wing of the warehouse is used as the client store, the other side of the building has a conference room for classes, a craft room, a lounge, and a children's playroom so children can play while their parents learn.
A majority of the families that come to Family Promise do not have existing support structures. The After Care Program is a way to build a community within families that have been touched by the program, the volunteers that offer up their time and the staff of Family Promise. The parents have even created a monthly group where they choose topics to discuss and offer emotional support to one another.

"We have really seen a snowball effect. One positive thing has come after another here. We have seen a lot of our program participants come back and volunteer their time into the program. These families can connect with one another on a deep level since they have similar experiences and stories. We have such a strong sense of community and connectivity here."
Throughout the tour, Morgan Taylor has a genuine smile on her face. You can feel her sense of pride and excitement with the facility and the possibilities it presents. Without the kindness and donations of others, the Client Store wouldn't have happened and as a result, the After Care program wouldn't exist.
"We were so lucky to get the call from Paul's Ace Hardware about the space and DeVita Healthcare Partners has been incredible in renovating the place. They have come back a few times to continue work on the space and it wouldn't be as beautiful as it is without them. We are grateful for all of the support we receive."
The story of the Family Promise Client Store is one that is characterized by good will, kindness, compassion and hope. You can get involved by making your own donation. The Client Store is not open to public use and all donations are still received at the Family Promise of Greater Phoenix Day Center.
We also invite you to participate in Cardboard City 2015 this October to raise awareness and support for homelessness in Arizona and the work of Family Promise. Together we can have a positive impact on homeless families in need in Arizona. Visit www.mclifephoenix.com/cardboardcityaz2015 for more information on how you can help!