Here in Phoenix there are tons of places to get amazing tacos and even some margaritas to celebrate Cinco de Mayo. It's the best season for celebrating with tacos! Here are our favorite spots around Phoenix as well as some recommendations for what to get!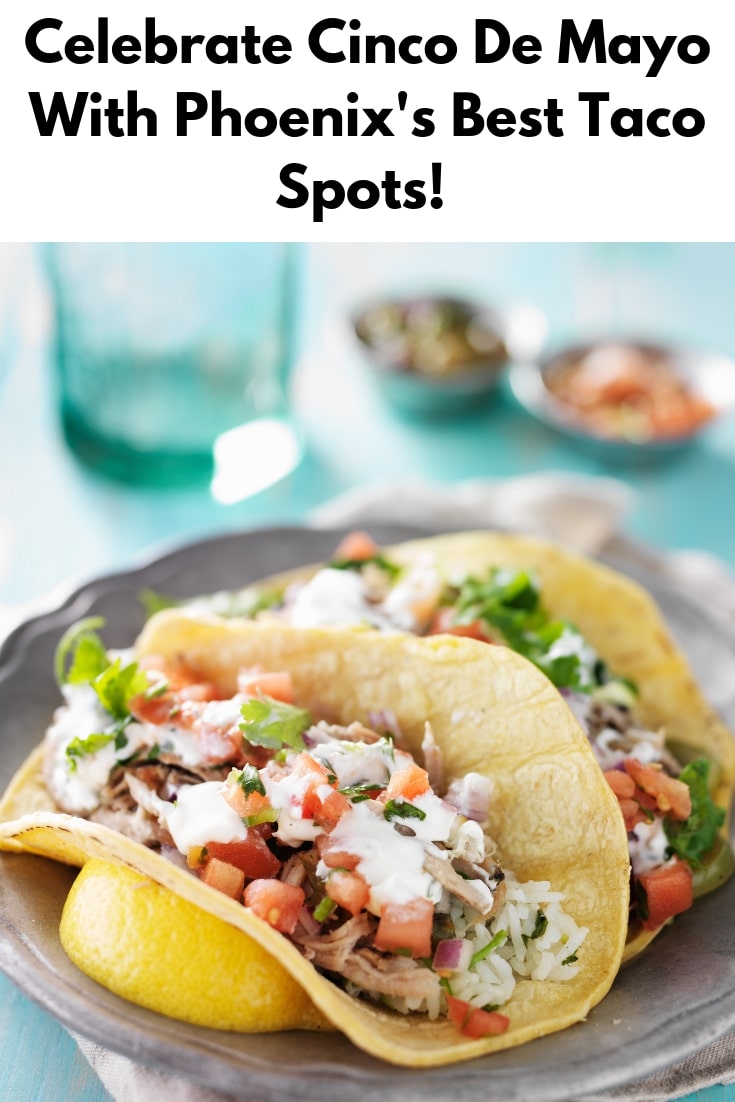 Celebrate Cinco De Mayo With Phoenix's Best Taco Spots!
Here in Phoenix we have a bunch of great spots for tacos that are convenient and local. These great taco spots are centrally located – tacos for everyone!
Sonora Taco Shop | 1009 S 7th St, Phoenix, AZ 85034
Must Try: Tacos and Salsa Bar!
Here in Phoenix you are never far from some great tacos! Sonora Taco Shop is an excellent choice for tacos and they have amazing service. This little taco spot is nothing fancy but it packs a big punch in flavors and recipes! You won't want to miss out on this little gem here in Phoenix.
Must Try: Mahi Mahi Tacos! 
Taco Guild is cooking up some amazing Mexican dishes here in Phoenix. The mahi mahi tacos are a must try item on the menu…although you'll have to try all the tacos on the menu and then declare your own favorite 🙂
Must Try: The Queso Dip!
If you want street tacos you have to visit Blanco Tacos and Tequila. They're making up some killer margaritas and awesome street style tacos. They are modern, fresh, and hard to put down foods and flavors. It's a nice escape from reality for a little bit at Blanco Tacos and Tequila. Every day is Cinco when you can get amazing tacos and margaritas!
Must Try: Portobello Tacos!
Tacos and Tequila Mexican Grill is another great place to get a cocktail with your taco fix. Here you will have your pick of delicious flavors and they are all made fresh every day. It's an extensive menu that won't be tackled in one day…you might have to make a couple of trips, I'd recommend it in fact! If you are on a low carb diet you don't have to miss out, they even have some skinny tacos that are low carb and perfect for keto! Healthy options that are delicious and perfect for Cinco?! Yes, please!
Must Try: Denver Style Tacos!
We've covered tacos and tequila now let's add in some whiskey! Mexican street food has never looked so good here in Phoenix. They have transformed into a nice sit down restaurant with an even bigger menu and their small batch tequila and whiskey makes for some amazing cocktails, desserts, and apps to go with your favorite tacos. They cook up their best dishes with local produce, and ingredients. Tacos, Tequila, Whiskey is working hard to make the very best street tacos in Phoenix.
Must Try: Island Shrimp Tacos!
For those of you living in our Scottsdale community this one is for you! Cien Agaves is right in Old Town Scottsdale. It's the best place to celebrate Cinco and you won't want to miss out on their Taco Tuesday specials week after week.