On May 26th, the world is excited to celebrate National Blueberry Cheesecake Day! You can celebrate with these great recipes, some tips on ways to get the whole family involved in the fun, and more. Let's get down to and dive into these tasty berries.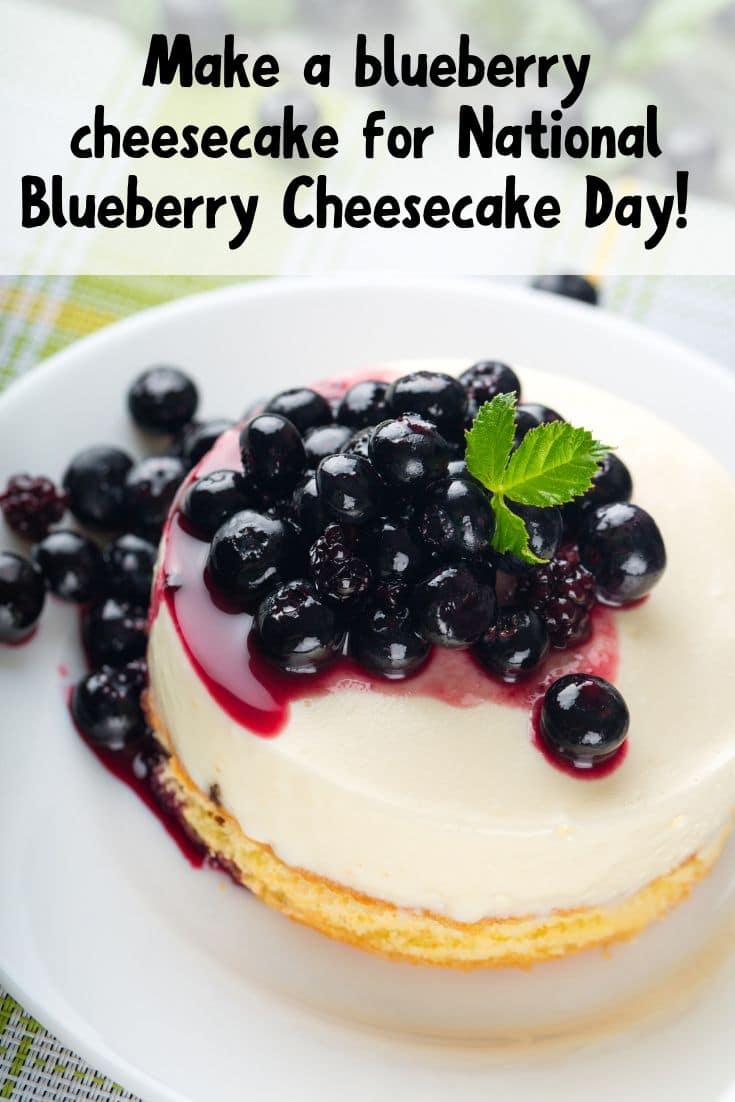 Make a Blueberry Cheesecake for National Blueberry Cheesecake Day!
Are you wondering why we have a whole day dedicated to blueberry cheesecake? Not me! I love cheesecake…which is actually a pie and blueberries which are actually a superfood disguised as a tasty little morsel for snacking.
Blueberries are packed with antioxidants which help with everything from inflammation too aging. They really are an amazing booster for your immune system, digestive system, and more. Each one is packed with vitamin C, K, and even manganese. You can get plenty of fiber from these nutrient dense berries without adding a lot of calories to your daily intake.
Of all the common fruits we eat you won't find one that is more dense in antioxidants…but enough about how great blueberries are…let's talk about how we can turn them into something magical and delicious!
How to celebrate National Blueberry Cheesecake Day:
Let's head to the kitchen and do some baking! These recipes will blow you away. Each one is unique and different. Who knew there were so many incredible ways to make a blueberry cheesecake, right?
Blueberry Cheesecake | Let's start with a classic version of blueberry cheesecake just to get a handle on things…it's easy to make at home and if you have fresh blueberries from the farmers market you can enjoy them in this amazing recipe.
White Chocolate Blueberry Cheesecake | Where are my chocolate lovers? This one is for you! Nothing more tasty than some fruit and cheesecake and white chocolate added in just for an epic finish!
Contest Winning Blueberry Swirl Cheesecake | If it's good enough for a blue ribbon in a cheesecake contest you can bet it's good enough for me!
Blueberry Glazed Cheesecake | I will try any recipe that looks this good! Also an excellent option if you have picky eaters who don't want any chunks in their cheesecake as they can have their without the topping!
Instant Pot Blueberry Cheesecake | Did you know the Instant Pot can do more than making Mac and cheese in 7 minutes?! It can also bake! How cool is that?! The Instant Pot makes quick work of everything it does so it makes sense that this blueberry cheesecake can be done in record time!
Easy Blueberry Swirl Cheesecake | Do you love desserts that look almost too good to eat?! This is the one to try in that case. It's so pretty and of course it's still packed with all those benefits we love from the blueberries and creamy deliciousness from the cheesecake itself!
Easy Blueberry Cheesecake Trifle | There's just something about a trifle that makes everything taste better! So many fresh flavors in this easy blueberry cheesecake trifle that your guests will be begging you for more…if you decide to share you might want to make two!