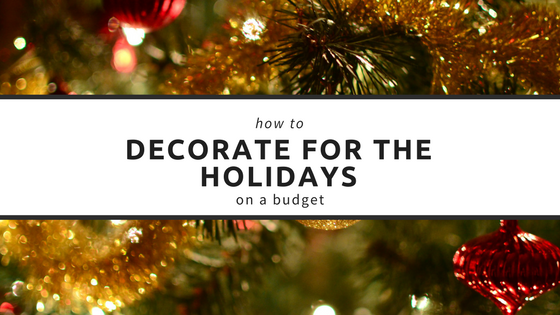 Want to decorate your home without spending a lot of money on décor? We're bringing you simple tips on how to decorate for the holidays on a budget.
Pretty Pinecones:
To turn pinecones into festive DIY Christmas decorations, dip them in gold paint (either partially or all of the way) or use a mixture of water, glue, and glitter for a sparkling effect. Place on side tables or use to fill baskets and bowls! It's bound to draw the attention to the table and makes it so there's a little something there!
Indoor Snowmen:
We know that Phoenix isn't the best place for snowmen, but why not bring them inside? All you need are the following materials: Black, white and orange acrylic paint, a paintbrush, baby food jar and ribbon. Crazy Little Projects suggests that you paint your jar and decorate with a snowman face. Add ribbon to hang your ornament on your tree or around your house!
Pillows Can Be Presents:
For an extra Christmas gift, tie a bow around your throw pillows with holiday-colored ribbons! It's a classic and quick way to decorate your living room and it looks cute too!
Display the Cards:
Sometimes Christmas cards are really quite beautiful. Plus, who doesn't love seeing their friends and family displayed around their home. Hang up the cards throughout your place with some clothesline and pins. You can decorate a wall or a doorway with these cute cards!
Hit Up Discount Stores:
Stores like TJ Maxx, Dollar Tree and Ross have some great deals on classic decor! And there's bound to be plenty of DIY supplies!
Wrap it Up:
Use that wrapping paper for more than just gifts! Wrap some books or line trays with the holiday patterned paper. It'll help create a fun and festive look and it just means you have more things to unwrap when the time comes!
Shine Bright:
Christmas lights are an easy and affordable way to decorate your home for the holidays, but it's even more fun when you add them to clear jars. It creates a beautiful and warm ambience that will twinkle like the stars above.
Your place will be looking festive and fun in no time at all! Make sure you send us pictures of your holiday homes!